Last Updated On 25 September,2017 11:54 am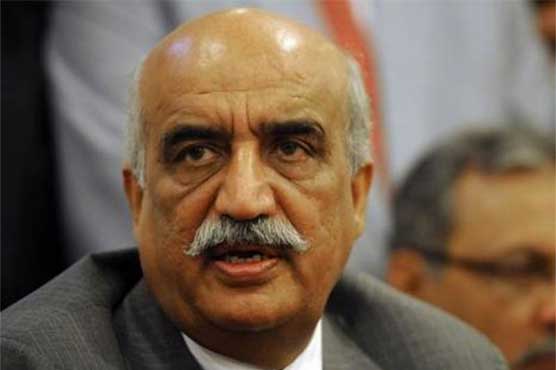 Khurshid Shah expressed his views while addressing a press conference in Sukkur.
SUKKUR (Dunya News) – Leader of the Opposition in the National Assembly Khurshid Shah has Monday appreciated Nawaz Sharif's decision of returning back to Pakistan, and said the former prime minister should face the cases now.
Khurshid Shah expressed his views while addressing a press conference that was held in Sukkur, and said efforts are being made to oust him. I have been working honestly for more than four years and am proud of my performance, he said.
Shah added that if there is someone better for the post of the opposition leader, he will not raise any objection over his appointment. He said all of this is being done to disturb the parliament. Shah further claimed that he always tried to unite the opposition, and to welcome everybody's suggestions.
Talking about the National Accountability Bureau (NAB), Khurshid Shah said there is a criteria mentioned in the Constitution of the Islamic Republic of Pakistan to appoint the NAB chairman, and it is mutually done by the federal government and the opposition leader.
He also bashed Pakistan Tehreek-e-Insaf (PTI) and Imran Khan, and alleged that PTI's every action strengthened Nawaz Sharif. He said PTI criticized Muttahida Qaumi Movement (MQM) a lot in the past, and everybody is aware of Imran Khan's views about the party and its leadership, therefore, it is disgraceful for PTI to now seek MQM's support. PTI should first apologize from MQM for levelling accusations against it in the past, he maintained.