On a lighter note: PM Abbasi holds candid press talk with Pakistani journalists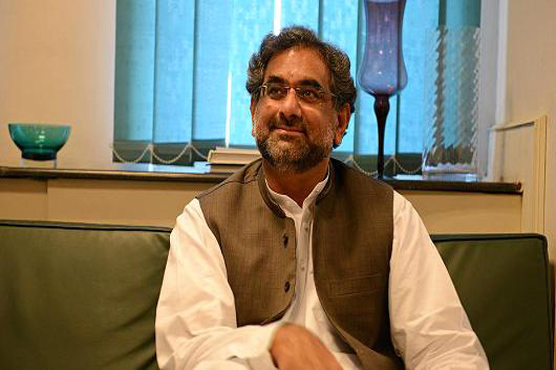 Following his address at the 72nd session of UNGA PM Abbasi in a conversation with Pakistani journal
(Dunya News) - In a media talk with Pakistani journalists, both Prime Minister Shahid Khaqan Abbasi and Minister of Foreign Affairs Khawaja Muhammad Asif were found in a casual, gleeful mood that led to a light-hearted conversation.
Answering questions in a rather candid way, both Khawaja Asif and Prime Minister Abbasi shared a good laugh with the journalists.
When the Prime Minister was questioned for not mentioning Kulbhushan Jadhav in his address to the United Nation's General Assembly, he said: "You think we should've mentioned him there? Okay, we'll take his name here."
In response to a journalist's question regarding protocol, Prime Minister Abbasi shot back saying how he has never taken protocol nor Khawaja Asif, seated next to him, was interested in enjoying any, to which Khawaja Asif was recorded saying, "You aren't a 'desi', ask these 'desi' journalists next to you, they know it."
The room that erupted with laughter every once in a while till the media talk lasted, also observed some serious moments while the dignitaries talked about the role of India in Kashmir, and Afghanistan's stability.
"The solution to the Afghan issue is political. We have categorically stated that India's political or military involvement in Afghanistan is not acceptable. It has no role in it."
PM also stated that Pakistan wanted peace in Afghanistan and that the Afghans themselves should resolve the issues within the country, adding that Pakistan would offer its supportive role.
Internal affairs of the country were also discussed including those of civil and military leaderships.
According to Khawaja Asif, "Civil and military leaderships are on the same page."
For more on this, watch Dunya News report below.
---
---