Last Updated On 06 September,2017 09:26 am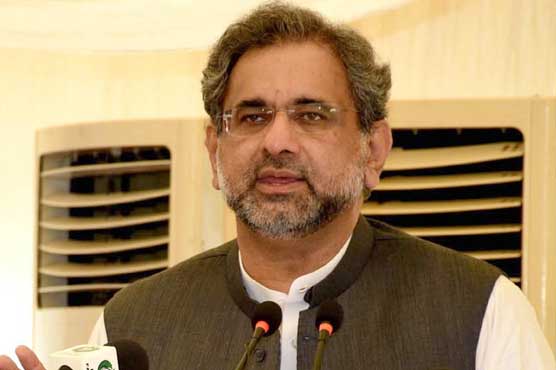 Enemies know that Pakistan's defence is unassailable, the Prime Minister said.
ISLAMABAD (Dunya News) – In his message on the Defence Day, Prime Minister Shahiq Khaqan Abbasi said Pakistan is much stronger today, and its defence is impregnable.
"Today, we are a nuclear power and our military is even more vigilant and better equipped. The entire nation is inspired by patriotism; and our new generation is more enthused than ever. The Citizens stand shoulder to shoulder with the Armed Forces. Our enemies know that Pakistan's defence is unassailable; any misadventure would certainly result in their humiliating defeat," the premier stated.
He said the 6th of September 1965 is a day in our history that can never be forgotten. It was a day when the Pakistani nation not only defended the motherland, but also gave a clear and unambiguous message to the world that Pakistan is fully capable of defeating all aggression, no matter how stark, no matter how cowardly.
PM Khaqan Abbasi further mentioned that Defence Day reminds us of those historic moments when the enemy attacked us in the darkness of the night to capture Lahore. The whole world saw that the valiant soldiers of Pakistan's Armed Forces repulsed the enemy with unsurpassed valour. Our soldiers proved with their supreme sacrifice that nations win wars not with armory, but with faith and courage.
"We can only defeat our enemies through strict adherence to the cardinal principles of unity, faith and discipline as laid down by the Father of the Nation. We cannot be divided in the name of religion, cast or creed," he added.
He further noted that Pakistan is on the path of accelerated development and we are being viewed as an emerging economy by the global Economic community. Pakistan's military has been victorious in the war against terror and has proved its professional excellence. Operations Zarb-e-Azab, Radd-ul-Fassad and Khyber-4 have broken the backbone of terrorists. It is essential that we maintain unity and reaffirm our resolve to work for a peaceful and prosperous Pakistan.
The premier also paid tribute to the great sacrifices of the unarmed innocent people of Indian Occupied Kashmir who have been fighting for their right to self-determination.
"Our position on Kashmir is very clear. This issue can only be resolved through United Nations' Resolutions and according to the aspirations of the Kashmiri people. Use of force and violence cannot suppress the voice of the Kashmiris, who are struggling for their inalienable right to self-determination," he said.
Prime Minister Khaqan Abbasi ensured that Pakistan will continue to provide moral, political and diplomatic support to the people of Indian Occupied Jammu & Kashmir for their legitimate right at every forum.
He also paid tribute to the great sacrifices of Pakistani soldiers and martyrs, and all those who fought for the defence of Pakistan.