PML-N behind Ayesha Gulalai's allegations against Imran: Shafqat Mahmood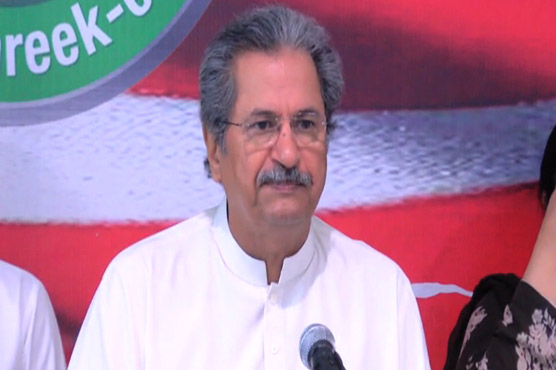 He said the so-called civil society should be ashamed of itself for criticising SC Panama verdict
LAHORE (Dunya News) – Pakistan Tehreek-e-Insaf (PTI) Shafqat Mahmood said the ruling party is behind allegations of sexual harassment levelled by Ayesha Gulalai against party chairman Imran Khan, warning Pakistan Muslim League-Nawaz (PML-N) of avoiding such filthy tactics.
He slammed the political opponents for 'launching filthy campaign' against PTI after disqualification of Nawaz Sharif. Mahmood mentioned that the attack of Awami Muslim League (AML) chief Sheikh Rasheed and ex-PTI leader Ayesha Gulalai's allegations of sexual harassment against PTI Chairman Imran Khan. He said Shehbaz Sharif has run away from NA-120 by-election.
PTI has rejected the parliamentary committee made in relevance to Ayesha Gulalai's allegations. Mahmood claimed that the committee will act in a biased way because most of its members are our political opponents, adding that PML-N is behind these conspiracies.
The PTI MNA warned PML-N to avoid such campaigns, assuring that their party will not respond with such attacks. "People who live in glass houses shouldn t throw stones," he suggested.
On the other hand, PTI candidate for NA-120 by-election pointed out that the Election Commission of Pakistan (ECP) hasn't kept complete voter list record of the constituency. She accused the ruling party of conducting pre-poll rigging in NA-120 with development projects being carried out after the issuance of by-election schedule. Also, she stressed that the PML-N fears her which is why they are yet to declare their NA-120 candidate.
She said ECP hasn't made it clear whether the election will be manual or biometric. Yasmin Rashid complained that if the by-poll is going to be biometric then necessary arrangements as well as awareness is required. The NA-120 candidate accused the ex-PM Nawaz Sharif and Maryam Nawaz of spending public funds on their personal expenditures including protocol and media cell.
On a question whether Imran Khan was behind a scattered opposition, Mahmood responded that we have an ideology against corruption so we cannot sit with those who are themselves corrupt. "The bad intentions of our enemies will never succeed." he hoped.
The PTI leader said Chaudhry Nisar wished to be named as foreign minister, but he was not given the cabinet seat. He said that the civil society should be ashamed of itself for criticising the verdict of Supreme Court in Panama case, adding that it is the first time that a corrupt family has been held accountable.