Nisar refrains from addressing political unrest after Lahore blast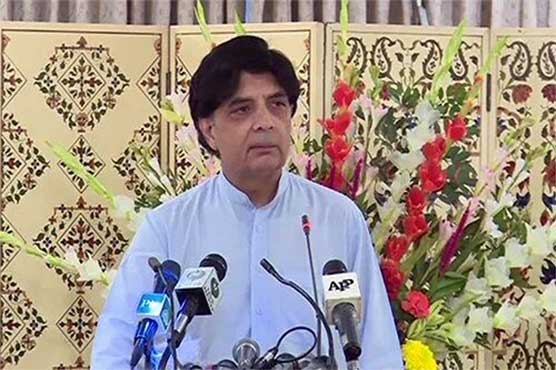 Media persons from Dawn, Channel 24 thanked the interior minister for cooperation after the assault
ISLAMABAD (Dunya News) - In a media talk in Punjab House on Monday, Nisar focussed his attention towards the Lahore blast and postponed his clarifications over the ongoing political unrest, rumours of the rift with the ruling party Pakistan Muslim League-Nawaz (PML-N) and Panama case verdict.
The interior minister had delayed his press conference due to backache on yesterday as well. He mentioned the reason of his absence yesterday and said he is still not well. He condemned the Lahore blast near Arfa Karim Technology Park in which at least 14 people died according to reports.
He highlighted that several law enforcement officers from police and other departments died in the attack as there was an ongoing anti-encroachment process in the area. "We need to focus all our attention on this tragic incident," he said. He told it will be inappropriate to talk about political matters due to the grief. Nisar extended his support for the families of victims.
The interior minister apologised to media persons and said he will discuss the political unrest and rumours later on.
Assault on free speech
Two journalists, including a female reporter, from Dawn and Channel 24 were manhandled by officials of Federal Investigation Agency (FIA) when they tried to cover ex-Chairman of Securities & Exchange Commission of Pakistan (SECP) Zafar Hijazi being treated at PIMS hospital. Nisar promised to take action against those involved, and the journalists from respective media organisations thanked him for his support.
The interior minister had immediately sought report of the incident.