Banners demanding Punjab CM to replace Nawaz Sharif as PM placed in Lahore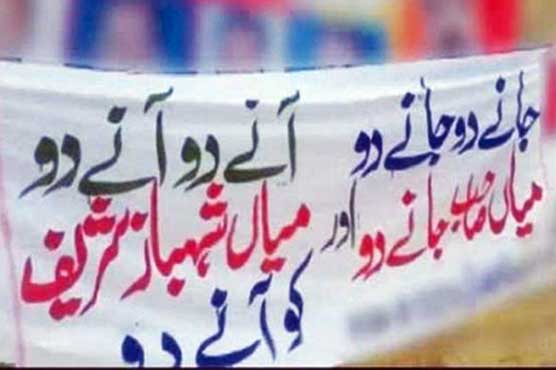 The banners have been removed by PML-N.
ISLAMABAD (Daily Dunya) – As the much-hyped Panama implementation case heading to its conclusion, the banners urging Chief Minister of Punjab (CM) Shehbaz Sharif to replace his elder brother Nawaz Sharif as Prime Minister of Pakistan (PM) were placed in Lahore.

The banners were put up by 'NGO Pakistan' outside Lahore Press Club demanding Nawaz Sharif to leave the post and allow his younger brother to serve as the premier.

The slogan "Janay do janay do Mian sahib janay do, aur aanay do aanay do Mian Shahbaz Sharif ko aanay do" was written on them.

However, the banners have been removed when Pakistan Muslim League-Nawaz (PML-N) came to know about them. The party also termed this step as deplorable, adding those involved in it are not party workers.

Earlier on Friday, Supreme Court (SC) reserved verdict in Panama Papers implementation case, probing money laundering charges against Sharif family after hearing arguments of both parties.

During the proceeding, Justice Azmat Saeed said we will mull over the disqualification of PM Nawaz Sharif, adding that the court has clearly analyzed everything and that we want transparency in every issue. The court remarked that Ishaq Dar failed to satisfy court over his assets however, an investigation against him can be launched.

The bench further said they will announce the date for the final hearing later.