Designating Kashmir freedom supporters as terrorists unjustified: FO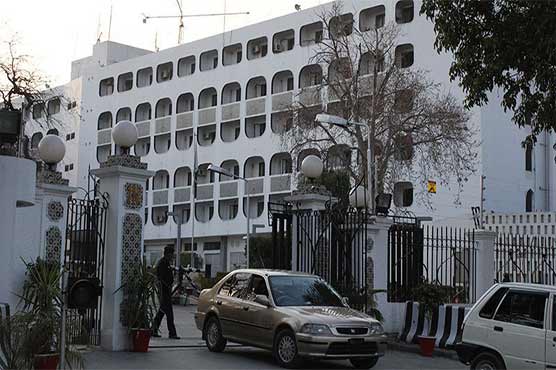 Islamabad reacted to the US sanctions on Syed Salahuddin ahead of Trump-Modi meeting
ISLAMABAD (Dunya News) – Foreign Office reacted to the US sanctions on Hizb-ul Mujahideen chief Syed Salahuddin and said designating individuals supporters of Kashmiris' right to self-determination is completely unjustified, reported Dunya News on Tuesday.
Islamabad maintained that the continuous 70 year old struggle against Indian occupation of Jammu and Kashmir is legitimate. FO has highlighted systematic humanitarian violations in Indian held Kashmir. "Pakistan has a demonstrated and longstanding commitment of combating terrorism in all its forms and manifestations. The people and government of Pakistan have rendered immense sacrifices in both blood and treasure to end this scourge, which has been acknowledged by the international community," FO spokesperson stated.
US State Department imposed sanctions on Syed Salahuddin during Tuesday ahead of the meeting between President Donald Trump and Indian Prime Minister Narendra Modi. President of Azad Jammu and Kashmir (AJK) Masood Khan also questioned the declaration of Salahuddin as globally designated terrorist. He warned that the regional peace had been threatened by Trump-Modi alliance.
In the official press statement, Foreign Office said Pakistan shall continue to extend political, diplomatic and moral support for the just struggle of the Kashmiri people for the realization of the right to self-determination and the peaceful resolution of the Jammu and Kashmir dispute in accordance with UN Security Council Resolutions., adding that intense human rights violations had been continuously reported in Indian held Kashmir over the past one year.
While raising voice against the atrocities on innocent Kashmiris, Islamabad mentioned the full and partial blinding of over a thousand innocent Kashmiris through the use of pellet guns, rape as an instrument of state policy, extrajudicial executions, use of human shields by Indian occupation forces, arbitrary arrests, undocumented disappearances, humiliation of Kashmiris on a daily basis, the blowing up of their homes and the denial of their fundamental freedoms of movement expression and opinion as well as religious freedoms. "Despite this relentless state terror, the Kashmiris remain undeterred and unbowed," it stated.