Last Updated On 24 May,2017 01:35 pm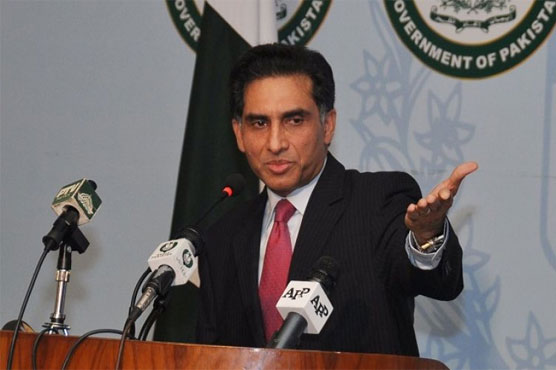 He said that history has testified that both have been more successful whenever they worked together
WASHINGTON (APP) - Pakistan and the United States need close cooperation to fight terrorism and attain long lasting peace in Afghanistan, Pakistan Ambassador Aizaz Chaudhry said here, while emphasizing the long and sustained history of engagement between the two countries.
The ambassador made these remarks while speaking at the Department of International Studies, University of St. Thomas (under the 'Distinguished Diplomat Program' (DDP) and at Baker's Institute for Public Policy, Rice University, which is one of the top ranking think tanks in the US.
A number of students, members of the faculty, media personnel and other distinguished guests attended the two events.
"Pakistan and US need to build on their commonalities to further strengthen bilateral relationship", he said while giving an overview of the relationship between the two countries that span over seven decades.
He highlighted the evolution of the relationship from security oriented relationship to a deeper more dynamic and multifaceted relationship in which the countries were cooperating in multiple fields including agriculture, industry, education, energy, trade, investment and healthcare.
Tracing the history of close cooperation and the successes they garnered during the Cold War era, and the unprecedented level of cooperation in the Post 9/11 scenario, the Ambassador said that while the relationship has seen its ups and downs, both countries have continued to engage and cooperate with each other for long sustained periods.
He said that history has testified that both have been more successful whenever they worked together. The Ambassador emphasized the need for close cooperation between Pakistan and the US in order to fight terrorism and have long lasting peace in Afghanistan.
He maintained that the challenges facing both countries in the form of Al-Qaeda, ISIS, and security situation in Afghanistan also provided an opportunity for future cooperation and engagement.
While referring to the situation in Afghanistan, the Ambassador highlighted Pakistan's efforts towards achieving peace in the war-torn country and remarked that there is a need to find a political solution to Afghanistan. He stated that a sovereign, stable and prosperous Afghanistan is vital to peace in Pakistan and the region.
The Ambassador also apprised the audience about the positive developments inside Pakistan including the successful security operations and the increasing economic opportunities. He highlighted the significant improvement within Pakistan's stock market, foreign exchange reserves, foreign investment and enhanced credit ratings of the country.
The discussions were followed by question & answer sessions in which the ambassador reemphasized Pakistan's desire for peace in Afghanistan and good relations with India and other neighboring countries.