Last Updated On 23 May,2017 06:51 pm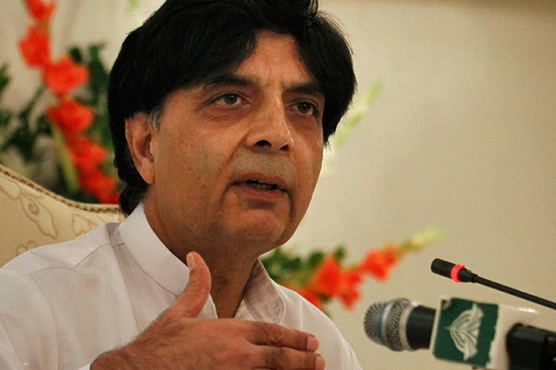 Nisar convened a meeting with members of Pakistan Broadcasters Association (PBA) on Monday
(Web Desk) – Interior Minister, Chaudhry Nisar Ali Khan on Tuesday has said that the social media is an unorganised platform and that anyone could register for a fake handle.
While addressing a press conference in the federal capital, Nisar said that a committee was formed to monitor flow of information for safeguarded national stability. The development came in during a meeting of senior journalists presided over by the federal minister.
He said that implementation over recommendations of the committee was underway.
Nisar said that he convened a meeting with members of Pakistan Broadcasters Association (PBA) on Monday as well. The participants maintained that the probe report over Dawn Leaks should have been dispatched to Council of Pakistan Newspaper Editors (CPNE), the minister laid bare.
He has cleared today that the government was not for blocking social media but it was calling for a regulated exercise of freedom of expression.
---
Know also: Nisar orders arrest of social media users ranting against army
---
He observed that members of Pakistan Muslim League-Nawaz (PML-N) are among those who have been acted against by law enforcers for 'misuse' of social media against institutions.
Nisar assured Chairman of Pakistan Tehreek-e-Insaf (PTI), Imran Khan of carrying out action against ruling party s objectionable social media activists if he provides a list.
Action taken by the ministry against those using social media to allegdly malign the military is not illegal, Nisar assured. He also said that he would urge Speaker of the National Assembly to form Standard Operating Procedure for the use of social media.
The interior minister vowed that future generations would be protected against 'trash' of social media.
---
Watch video report: