Last Updated On 19 May,2017 05:42 pm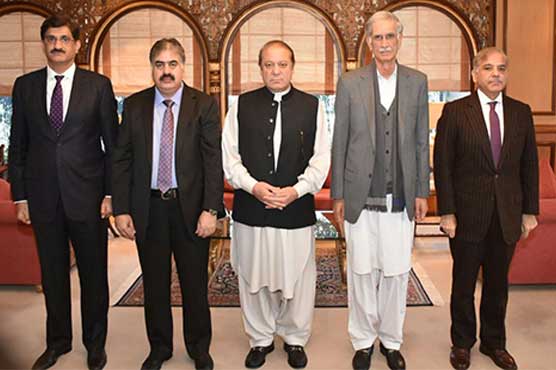 Prime Minister Nawaz Sharif addressed National Economic Council meeting in Islamabad.
ISLAMABAD (Dunya News) - Prime Minister Nawaz Sharif on Friday said the federal and provincial governments are working in harmony for development of the country and the development should not be politicized as it is for prosperity of every citizen of the country.
He gave these remarks while addressing the National Economic Council (NEC) meeting in Islamabad. Federal and provincial Ministers concerned, Prime Minister of Azad Kashmir, Governor KPK, Chief Ministers of Punjab, Sindh, Khyber Pakhtunkhwa, Balochistan and Gilgit-Baltistan were present in the meeting.
"During Belt and Road Forum at China all the Chief Ministers accompanied me and the world saw that Pakistan unanimously stands for development and it was a very positive message that we are united," the Prime Minister stated.
He said Pakistan's economic indicators have significantly improved and this is acknowledged by international financial rating institutions.
He said the GDP growth rate of 5.28% for the current financial year is commendable. Pakistan is now among fastest growing economies, he added.
The Prime Minister informed the participants of the meeting that China-Pakistan Economic Corridor projects are on fast track.
He said the government is focusing on energy projects. He said not only power supply is priority of the Government but it is providing affordable power supply for consumers.
He said the government is also focusing on a balanced mix of sources for energy including LNG, Coal, Hydel, Solar and Wind.
Describing infrastructure as key to development, Nawaz Sharif said the Government is concentrating on roads and communication networks.
Nawaz Sharif noted that the present government has increased the provincial share in Public Sector Development Programme (PSDP) for the next financial year three times more as compared to 2012-13. FATA, Azad Kashmir and Gilgit-Baltistan are as important to Federal Government as all other provinces.
ALSO READ: NEC sets highest ever PSDP spending of Rs 1001 billion for 2017-18