Slain Qawwal Amjad Sabri's family demands security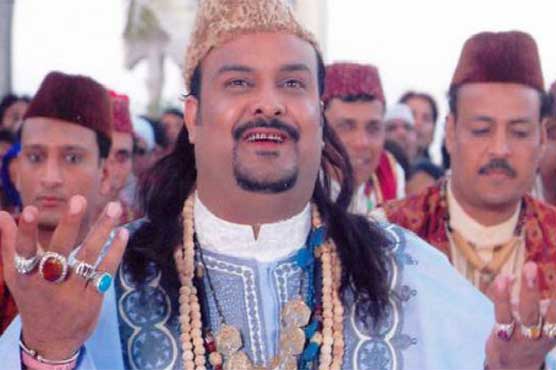 The family also asked to return Sabri's car and mobile phones as early as possible.
KARACHI (Dunya News) – Family members of slain Sufi Qawwal Amjad Sabri have appealed the government to provide them security on the occasion of his first death anniversary.

Talking to media along with officials of Arts Foundation at Karachi's Press Club, Amjad Sabri's brother Talha demanded the authorities to bring the culprits behind the murder to justice. He also asked them to return mobile phones and car of the deceased confiscated for investigation.
Meanwhile, Sabri's mother said that they only want to go abroad for excursion and don't have any plan to leave Pakistan permanently. She said that they have given the name of 'urs' to first death anniversary of Amjad Sabri.
Earlier, Sabri's murderers Asim Capri and Ishaq Bobby revealed before the Joint Investigation Team (JIT) that they killed him because he had committed 'blasphemy' on a TV channel.
Asim Capri was assigned by Bobby to follow Amjad Sabri for one month after which they went on to kill him. Ishaq Bobby, who was a shooter, used 30-bore pistol and strictly prohibited Asim Capri to fire.

It is pertinent to mention here that there was speculation in the media previously that Amjad Sabri had been killed by some target-killer linked with Muttahida Qaumi Movement (MQM).

On June 22, Amjad Sabri was shot dead by two gunmen riding a motorcycle in Karachi. Thousands of people had paid tribute to the melodious qawwal as the nation felt yet another tremor in the war against terrorism.

Sabri was a fixture on national television and regularly performed on a morning show during the holy Muslim month of Ramadan, winning many admirers for his devotional music, humble lifestyle and charitable work.