Last Updated On 13 May,2017 09:28 am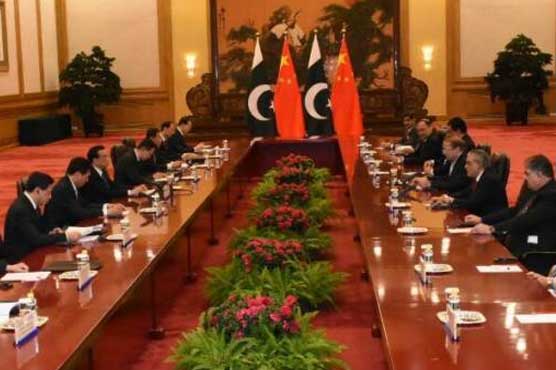 Pakistan considers China as an important friend, Nawaz Sharif said.
BEIJING (Dunya News) - Prime Minister Nawaz Sharif held a meeting with his Chinese counterpart Li Keqiang in Beijing today (Saturday).
On the occasion, Nawaz Sharif said that Pakistan is committed to complete China-Pakistan Economic Corridor (CPEC) at the earliest.
Pakistan considers China as an important friend, he added.
The Prime Minister also expressed full support for the completion of One-Belt, One Road initiative.
Later, Pakistan and China signed various agreements in a ceremony witnessed by Nawaz Sharif and Li Keqiang. Federal Ministers, Advisor on Foreign Affairs and Chief Ministers of all four provinces were present on the occasion.
---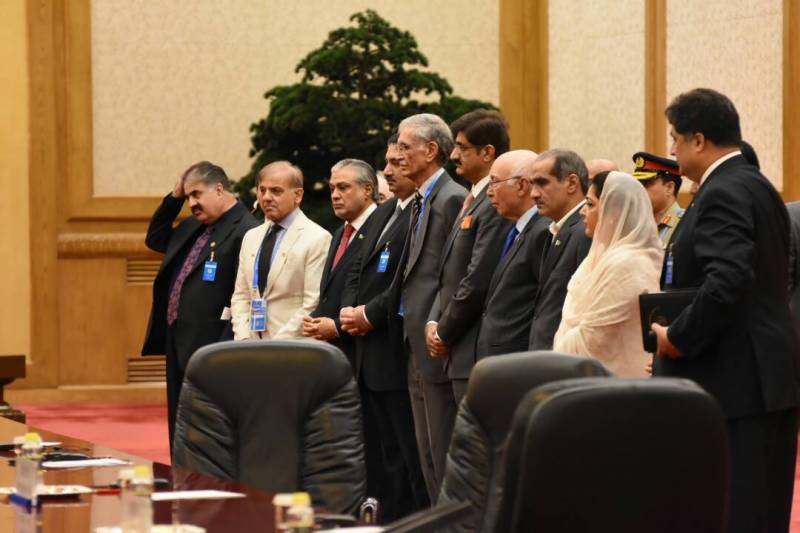 ---
During his week-long visit, Prime Minister Nawaz Sharif will attend the inaugural session of the One Belt One Road Summit and the plenary meeting of high-level dialogue and the state banquet.
He will also attend the leaders' roundtable sessions on second day of the forum.
The Prime Minister is also expected to meet world leaders on the sidelines of Belt and Road Forum. He will participate in an investment conference and meet with business and corporate leaders.
---
CPEC RELATED AGREEMENTS
---
Minister for Planning Development and Reform, Ahsan Iqbal on Friday announced that Pakistan and China would sign number of CPEC related agreements and memorandum of understandings during Belt and Road Forum scheduled to be held in Beijing.
Speaking to media, Ahsan Iqbal said that CPEC is the flagship project of One Belt One Road Summit. "CPEC is the first and the most important bilateral initiative of this forum" he remarked.
He said a number of agreements and MoUs related to CPEC projects are also expected to be signed on the occasion. He said singing of agreement on CPEC important project for Gwadar Eastbay Expressway is planned.
The project will be financed through an interest free loan from the Chinese government under CPEC. It envisages construction of 18.981 km 4-lane divided expressway with embankment for 6-lanes structures, integrating Gwadar Port with the Makran Coastal Highway as well as with the free zone and future container terminals.
Ahsan Iqbal further said that signing of New Gwadar International Airport project agreement is also expected during this important forum.
This mega project envisages construction of New Gwadar International Airport (NGIA), along with allied facilities for new airport that will be capable of handling a combination of ATR 72, Airbus, (A-300), Boeing (B-737) and Boeing (B-747) for domestic as well international routes.
Ahsan Iqbal further told that signing of the agreement of Pakistan's Railway's 'up gradation of ML-1 project' is also planned. "It will help in rehabilitation & up-gradation of Karachi-Lahore Peshawar to Landi Kotal (ML-1) Railway Track" he added. He said that implementation of this project will allow increase of train speed upto 160 kilometer per hour.
The project is being implemented with the cost of US $ 8212 M. It will help in transportation of heavy cargos from Gwadar and Karachi to Khunjrab and vice versa. Construction of Havelian dry port is also planned under this project which will meet the demand of containerized future freight traffic in connection with Pak-China Economic Corridor.