Last Updated On 11 May,2017 07:39 pm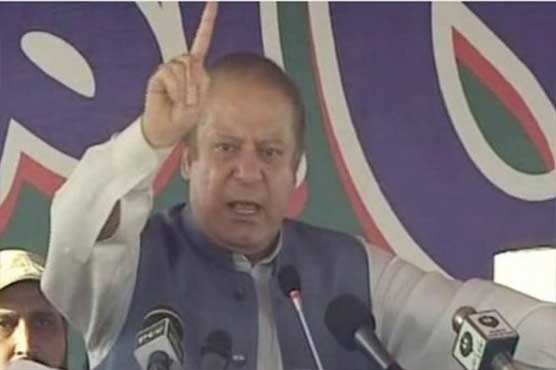 PML-N does not believe in the politics of using foul language, Nawaz Sharif expresses
CHICHAWATNI (Dunya News) – Prime Minister Nawaz Sharif addressed a grand public rally in Chichawatni near Sahiwal on Thursday afternoon, reported Dunya News.
PM Nawaz Sharif expressed his thanks to the people of the area who according to his opinion, have always voted for him with love.
The prime minister revealed during his speech that he used to come to Chichawatni when he was a kid.
PM Nawaz expressed at the occasion that he loves the people of Chichawatni and that he will continue to retain the mutual love-bond in future as well.
The Prime Minister revealed that whole Pakistan is reaping the benefits of development projects that were initiated by PML- N government.
The condition of hospitals is worse within KP and there is no one who could take notice of the horrible situation of the schools within the province.
"If you want to witness the end result of new Pakistan, you will have to visit Khyber Pukhtunkhwa for that," PM expressed.
The prime minister expressed that PML-N did not believe in the politics of using foul language against its opponents and instead committed to serve masses.
Nawaz Sharif claimed during his speech that the price of oil and electricity had significantly been reduced during the current government.
"The price of urea was brought down from Rs 4,000 to Rs 2,500 per bag to facilitate the farming community," he said.
PM announced to join Chichawatni to the motorway and professed that we are also building roads for those who are staging sit-ins.
The prime minister announced 25 crore funds for Chichawatni.
PM Nawaz also announced that a campus of veterinary university will be established within Chichawatni.
PM announced Sui gas schemes for various constituencies of Chichawatni.
"The technical university within Chichawatni will be upgraded," he announced.