Last Updated On 06 April,2017 03:33 pm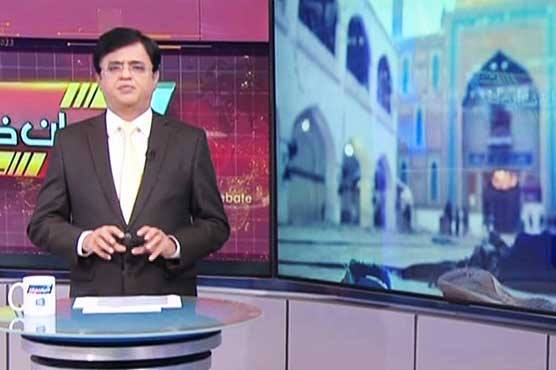 Women patients are being forced to use 'combined toilets' at 11 BHUs.
LAHORE (Dunya News)- A recent study has exposed depleting health standards and consequent predicament of patients at basic health units (BHUs) in Punjab's capital, disclosed Kamran Khan in his widely watched show Dunya Kamran Khan Kay Sath.
The survey was carried out by Empowerment, Voice and Accountability for Better Health and Nutrition (EVA-BHN), which is an initiative of UK's Department for International Development (DFID).
The report illustrates startling figures which has exposed criminal negligence on behalf of Punjab government in basic health units. Out of 37 total BHUs in Lahore, 25 do not have basic facility of laboratory test, thus forcing misery-stricken patients to conduct tests from private facilities at relatively higher market price. These BHUs include Karol, Hair, Buller, Narwar, Hadyara, Kacha, Lakhoki, Leel, Saraich, Ali Razaabad, Arainan, Shamke Bhattian, Halloke, Niaz Baig, Shahpur, Jia Bagga, Lidher, and Wagah.
Likewise, 29 BHUs are deprived of any ambulance and 20 others have no alternative power source for tackling load shedding. Deplorably, 18 centers have no medicines and patients are left with no other choice but to buy prescribed medicines from stores. Report illustrates 23 centers are working in absence of an ultrasound machine.
Report further brings to limelight that there are 15 centers operating without facility of pure drinking water while 11 centers do not have separate toilets for women.
Walls of 13 centers are in abysmal condition which may result in any catastrophe, thus, endangering lives of patients as well as employees working there.
Grotesquely, police have occupied a building of BHU in Lakhoki area of Lahore and have left one room vacant for healthcare activities.
Minister of primary and secondary healthcare Punjab Khawaja Nazir Ahmad, while responding to a question on DFID's report, said situation had improved a lot after bifurcation of health department.
"The foremost focus of Punjab government is to strengthen primary and secondary healthcare units. There are 2500 BHUs across Punjab", articulated Ahmad.
"Situation has improved a lot in past few years owing to government's incessant efforts. 700 to 800 BHUs are working 24/7 while rest work till 2PM. We have inaugurated rural ambulance service and ministry is revamping 40 big hospitals across province", minister added.
Ahmad dismissed DFID's report by labelling it 'old'.
"It has been made compulsory to maintain requisite quantity of medicine at every BHU", added minister.
A basic health units (BHUs) is established to provide basic healthcare facilities to at least 25, 000 people on level of union councils (UCs). The primary function of BHU is to provide first aid and treatment for pestilential diseases whereas patients in critical condition are referred to big hospitals.
---
Watch Video Below