Over 72 martyred, 150 injured in Lal Shahbaz Qalandar shrine blast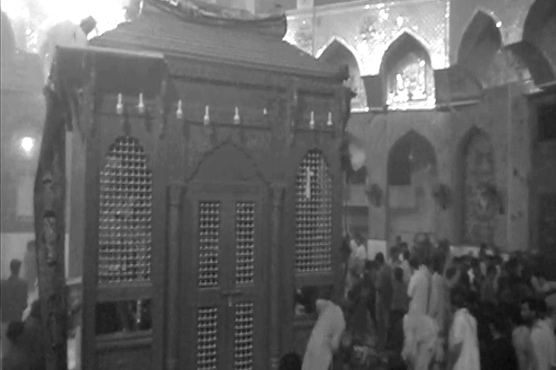 Thousands of people had gathered at the shrine today
JAMSHORO (Dunya News) – More than 72 persons have been killed and over 150 injured as a bomb exploded at shrine of Lal Shahbaz Qalandar in Sehwan Sharif on Thursday.
---
What we know so far:
Army, Rangers teams carrying out relief operation at attack site: ISPR
Hospital appeals to public for blood donations, reports shortage of facilities
C-130 aircraft of PAF, navy copter provided for relief operation
PM Nawaz condemns attack
CM Murad Ali Shah to visit shrine, review situation
---
Eyewitness's account
---
Sources on the ground have reported that thousands of people had gathered at the shrine today as a religious gathering is convened every Thursday.
Ambulances that have moved from Hyderabad require at least one a half hours to reach the attack site, according to the sources. Hyderabad Deputy Inspector General of Police, Khadim Hussain Rind has reported that a team of 50 medics have reached Sehwan Sharif from Dadu District of Sindh.
He told that there are CCTV cameras and walk-through gates installed at the shrine.
---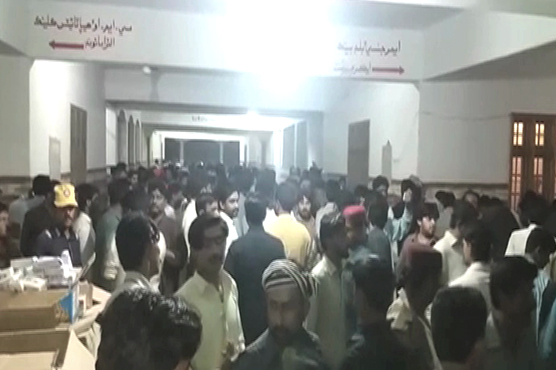 Sehwan Sharif hospital flocked minutes after the blast
---
Medical Superintendent of a hospital in Sehwan Sharif has complained of insufficient space to accomodate dozens of wounded.
Media cell of Pakistan Army has reported that Chief of the Army Staff, Qamar Javed Bajwa has ordered immediate operation at the site.
Chief of the Naval Staff, Admiral Zakaullah has put all navy hospitals in Karachi on high alert to receive the wounded, the media cell reported.
---
Recent Ts acts are being exec on directions from hostile powers and from sanctuaries in Afghanistan. We shall defend and respond.

— Maj Gen Asif Ghafoor (@OfficialDGISPR) February 16, 2017
#COAS appeals nation to stay calm. "Your security forces shall not allow hostile powers to succeed. We stand for our nation".

— Maj Gen Asif Ghafoor (@OfficialDGISPR) February 16, 2017
#COAS directed imed assistance to Sehwan blast victims. Army /Rangers moved incl medical support. Hyderabad CMH ready to receive casualties.

— Maj Gen Asif Ghafoor (@OfficialDGISPR) February 16, 2017

---
Inter-Services Public Relations has further reported that C-130 aircraft would lift the injured in Nawazshah while navy's copter in Sehwan Sharif and its surroundings.
Copter, C-130 provided: ISPR
---
Prime Minister Nawaz Sharif has condemned the attack and stated that terrorists cannot deter resolve of the nation to eliminate extremism. The premier has ordered all institutions of the state to contribute to relief activities.
While talking to Dunya News, Governor of Sindh, Muhammad Zubair has said that the state is fighting war on terror for 15 years and has garnered numerous successes despite setbacks. The governor called for unity of the nation against banned organisations.
---
Attack site: Shrine of Lal Shahbaz Qalandar in Sehwan Sharif
---
Spokesperson for the Government of Sindh, Nasir Shah has condemned the attack and expressed grief over loss of precious lives. While answering a question over lack of security, he said that the provincial government is making all possible efforts to counter terrorism.
This is the seventh terror attack in five days in different cities of Pakistan including capitals of Punjab and Balochistan and Khyber Pakhtunkhwa. On Monday, a suicide attacker claimed 14 lives outside Punjab Assembly on Shahrah-e-Quaid-e-Azam. The martyred included Chief Traffic Officer, Syed Mobin Ahmad and Senior Superintendent of Police.
A terrorist wearing a suicide vest rammed a stolen motorcycle into a van carrying judicial officers yesterday in Hayatabad area of Peshawar killing the driver while injuring the officials.
Last year in November, a similar kind of bomb blast was reported at Shah Noorani shrine in Hub area of Balochistan that left over 52 killed and dozens of others wounded.
---
This is a developing story and will be updated as the situation evolves
WATCH VIDEO REPORT: