Last Updated On 19 October,2016 04:03 pm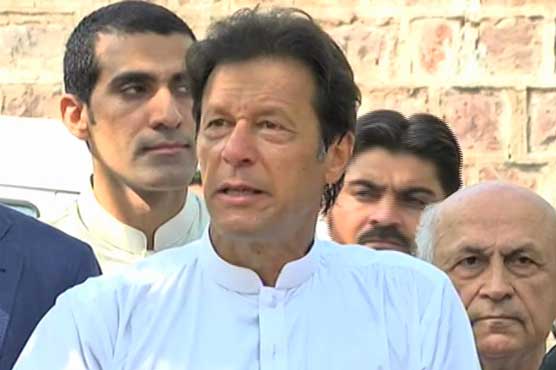 PTI chief Imran Khan said no political party opposes China Pakistan Economic Corridor (CPEC).
ISLAMABAD (Dunya News) – Pakistan Tehreek-e-Insaf (PTI) chairman Imran Khan on Wednesday lashed out at the PML-N led government, stating that construction of roads won't make any difference. He said Prime Minister Nawaz Sharif should answer over Panama Leaks scandal first.
Speaking to reporters after holding a consultative meeting with the party leaders regarding a strategy to lockdown Islamabad on November 2, Imran Khan said 'ribbon cutting on roads' cannot delete Panama issue from people's mind.
He said no political party opposes China Pakistan Economic Corridor (CPEC) but the rulers put blame on opposition only to hide their corruption.
To a question regarding PM's prediction to dethrone PTI from Khyber Pakhtunkhwa in 2018 general election, the PTI chairman said: "If they think they can make government in Khyber Pakhtunkhwa by rigging elections like 2013, they are living in an illusion. 2018 is too far and at the moment, we are just demanding answer over Panama leaks."
He said those aim to rid Pakistan of corruption will stand with PTI on November 2.
---
READ: Imran sets November 2 as Islamabad shut down date
---
Addressing the PML-N General Council in Islamabad after his unopposed election as party president on Tuesday, Prime Minister Nawaz Sharif had stated the government would continue to serve the nation despite hurdles being created by some political jugglers. He said people would reject these jugglers and support those who are busy in nation building.
The Prime Minister said people of KPK voted for PTI on the slogan of change but the party leader is seen only on containers and dancing parties instead of serving the masses. He claimed PML-N would form the Government in KPK as well after 2018 elections on the basis of its concrete performance.
He further mentioned that some people are talking about blocking of roads and jamming Islamabad but the PML-N would continue to build roads and it is fate of these elements to measure these roads.