PM presides high level meeting, discuss implementation on NAP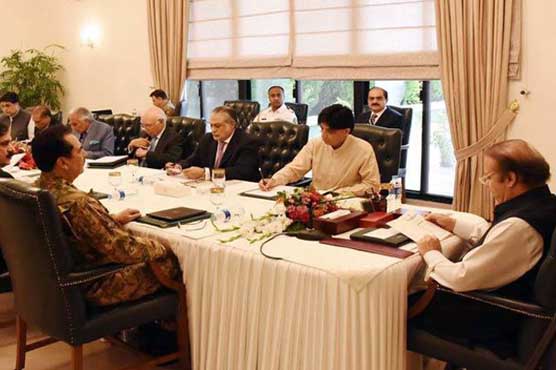 COAS, ISI DG, MI DG, CMs of all four provinces and other civil-military leaders attended the meeting
ISLAMABAD (Dunya News) – Prime Minister (PM) Nawaz Sharif on Wednesday presided over a high level meeting in which focus was made towards the implementation of National Action Plan (NAP), reported Dunya News.
Federally Administered Tribal Areas (FATA) reforms committee presented four basic recommendations regarding FATA's future during the meeting. The report stated that a majority of FATA's population was of the view that FATA should be made part of Khyber Pakhtunkhwa (KP).
The first suggestion was about maintaining the current situation of FATA while introducing judicial and administrative changes. The second suggestion stated that a FATA council be formed keeping in consideration the one formed for Gilgit-Baltistan.
The third suggestion was about giving provincial status to FATA whereas the fourth was related to annexing it with KP and giving the district-status to all agencies.
The report stated that law enforcement agencies in FATA can be made more effective by making it a part of KP whereas the move can also make sure the return of the security forces from the region.
The meeting was attended by Chief of Army Staff (COAS) General Raheel Sharif, Inter-Services Intelligence (ISI) Directed General (DG) Lieutenant General Rizwan Akhtar, Military Intelligence (MI) DG, Military Operations (MO) DG and other military leaders.
Minister of the Interior Chaudhry Nisar Ali Khan, Federal Minister of Finance Ishaq Dar, Advisor to Prime Minister (PM) on Foreign Affairs Sartaj Aziz, Advisor to PM on National Security Lieutenant General (retd) Nasir Khan and Chief Ministers (CMs) of all four provinces also took part in the meeting.