Terrorism will end when retribution of Model Town incident takes place: Dr Qadri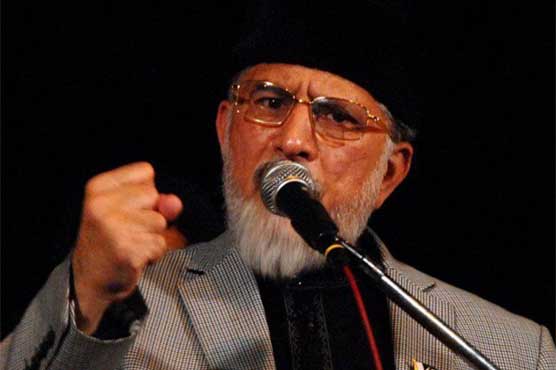 Dr Qadri said that matter would not be solved if people kept sitting at home
LAHORE (Dunya News) – Pakistan Awami Tehreek's (PAT) chief Tahirul Qadri said on Sunday that terrorism will end when retribution of Model Town incident takes place, reported Dunya News.
Dr Qadri was addressing his workers as he said that this matter is not only related to victims of Model Town but whole nation. He said that it is a matter of Pakistan's security, as retribution movement is against corrupt politicians. He also added that they want to change the system of injustice and whole nation will have to come out to change the destiny of nation.
Dr Qadri also announced the next strategy as he said that on they would protest in Dera Ghazi Khan on 25, Muzaffargarh on 26, Multan on 27 and Quetta/Balochistan on 29. He said that all those who are sitting at home despite 16 hours loadshedding, they should come out to protest.
On the other hand, there were rallies of PAT in other cities as well. Awami Muslim League (AML) chief Sheikh Rasheed attended rally in Gujranwala whereas there were rallies in Sialkot, Gujrat, Narowal and Hafizabad as well.