Last Updated On 03 July,2016 01:56 pm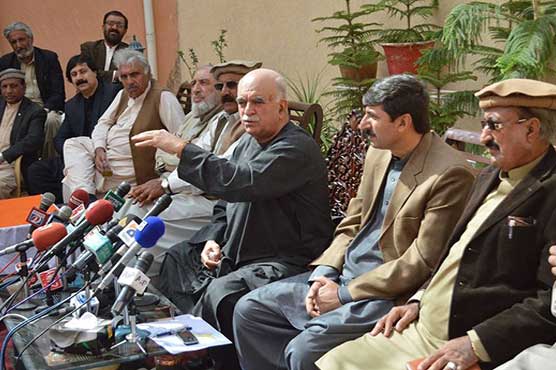 Achakzai said that he would not permit anyone to harass Afghan migrants in their "own land."
ISLAMABAD (Web Desk) - Pakhtunkhwa Milli Awami Party (PMAP) Chairman Mahmood Khan Achakzai on Thursday said that Khyber Pakhtunkhwa (KP) province is an area of Afghans and they are allowed to live there without any fear and hesitation, reported Afghanistan Times.

Opposing Pakistan's policy regarding Afghan refugees, Achakzai said that he would not permit anyone to harass Afghan migrants in their "own land."
"If Afghans are harassed in other parts of Pakistan, they should come here to the Pakhtunkhwa province, where no one can ask them for refugee cards, because it also belongs to them," Achakzai added.

Meanwhile, Federal Minister Abdul Qadir Baloch bluntly responded that Afghan refugees have to leave Pakistan, adding that the government wants voluntarily and respectful repatriation of the migrants.

He also announced that Afghan refugees minister is scheduled to visit Pakistan on July 19 to discuss the issue.

On the other hand, Islamabad granted Afghan refugees an extra six months to remain in Pakistan as authorities stepped up efforts to work with the UN and Kabul to relocate camps to Afghanistan.

"The stay of POR (Proof of Registration) card holder Afghan refugees shall be extended for a further period of six months only, till 31st December, 2016," a statement issued from Prime Minister (PM) House.

The worsening security situation in Afghanistan meant that between January and June this year only 7,000 Afghans voluntarily returned to Afghanistan, according to UNHCR Pakistan.

Pakistan Prime Minister Nawaz Sharif also ordered government ministries to engage with the United Nations and the Afghan government to aim for the "gradual relocation" of refugee camps from Pakistan to Afghanistan, his office said.

Pakistan would supply wheat to the relocated camps for three years free of charge as a gesture of good will, the office said.

Earlier, paramilitary forces of Pakistan attempted to build a gate at Torkham border crossing that resulted in an exchange of firing between Afghan and Pakistan forces. Both sides have also received casualties during the shooting.