COAS warmly welcomed in Germany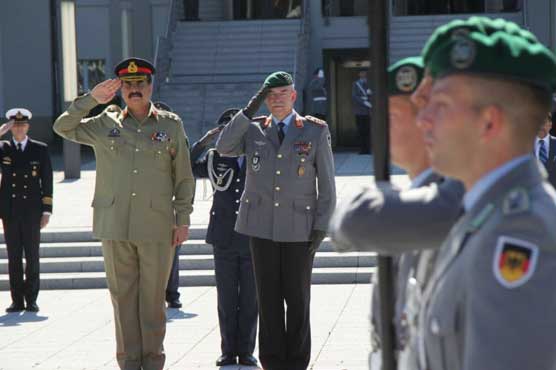 German military expressed interest in benefiting from Pakistan's military experience: ISPR
BERLIN (Dunya News) – Chief of Army Staff (COAS) General Raheel Sharif on Monday received a warm and historic welcome during his arrival at Germany, reported Dunya News.
He was presented with a guard of honour in the famous mansion of German Defence Ministry where German Chief of Army Staff was also present.
According to Inter-Services Public Relations (ISPR) department, COAS had met German Defence Minister where matters regarding defence, security cooperation and exchange of training were discussed.
During the meeting, both the leaders agreed to enhance military relations between them. The political and military leadership of Germany praised Pakistan army's sacrifices and accomplishments in the war against terror.
The German military leadership expressed interest in benefiting from Pakistan's military experience in the war against terrorism.