Tahirul Qadri arrives at PAT sit-in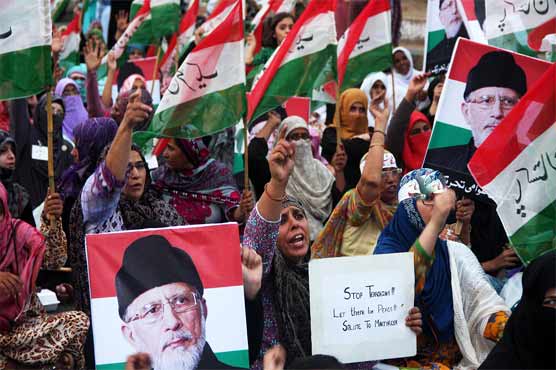 Qadri directed the participants of the sit-in to ensure cleanliness and discipline
LAHORE (Dunya News) – Pakistan Awami Tehreek (PAT) leader Dr Tahirul Qadri on Friday stated in a video message that the duration of the party's sit-in organised in Lahore would depend upon the attitude adopted by the government, reported Dunya News.
Qadri said that if violence takes place then the sit-in shall be prolonged till an indefinite time period, adding that he has received minor complains from different areas.
PAT leader addressed the participants of the sit-in in his video message and stated that the attendants must ensure cleanliness and discipline. He said that the sit-in should be an exemplary one.
PAT has organised a sit-in at Mall Road in Lahore to mark the second death anniversary of the party members and followers who died in the Model Town shooting incident two years ago.
Pakistan Tehreek-e-Insaf (PTI), Pakistan People's Party (PPP), Jamaat Islami (JI), Pakistan Muslim League-Quaid (PML-Q) and Muttahida Qaumi Movement (MQM) have backed PAT's sit-in whereas a number of parties have sent their delegations to take part in the demonstration.
Locals had to face a lot of difficulty throughout the entire day as a result of the Charring Cross being closed for all sorts of traffic.
On the other hand, PAT had also arranged sit-in at Numaish Chowrangi. A large number of women and children had also participated in the procession and lit candles in memory of martyrs of Model Town tragedy. PAT administration stated that Sehri arrangement had also been made for demonstrators.