No windstorm alert: PM seeks explanation from PMD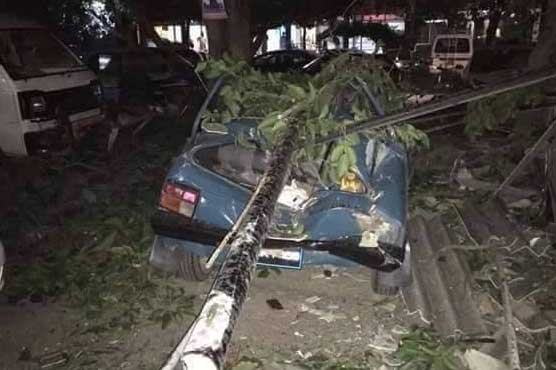 At least 15 people died and more than 100 suffered injuries as the windstorm hit Islamabad and KP.
ISLAMABAD (Web Desk) - Taking notice of failure of Pakistan Meteorological Department (PMD) to forecast and issue adequate warning regarding the severe dust / thunderstorm that struck on June 1, the Prime Minister's Office today (Friday) issued notice to Pakistan Metrological department (PMD) seeking a written explanation on the matter, Dunya News reported.
The notice states: "Dust / thunderstorm which hit parts of Khyber Pakhtunkhwa, Punjab and the Islamabad Capital Territory late in the evening on 1st June 2016 had started gathering in the sky around mid-afternoon. This was clearly visble even to the naked eye in Islamabad at around 4:00 P.M. And yet the Meteorological Department of Pakistan, despite modern equipment and technology available to it, failed to either forecast, or to issue and adequate warning, regarding the impending storm, which resulted in the loss of so many precious lives, injuries and damage to property and installations."
---
ALSO READ: Windstorms, deadly rains in various cities leave several people dead
---
The Prime Minister also directed DG Met Ghulam Rasool to submit a written explanation in this regard.
"I am directed to convey that a report be submitted for information of the Prime Minister, which should include your explanation for this very serious and culpable neglect of duty by the Meteorological Department of Pakistan," Joint Secretary Kamran Ali Afzal ordered.
---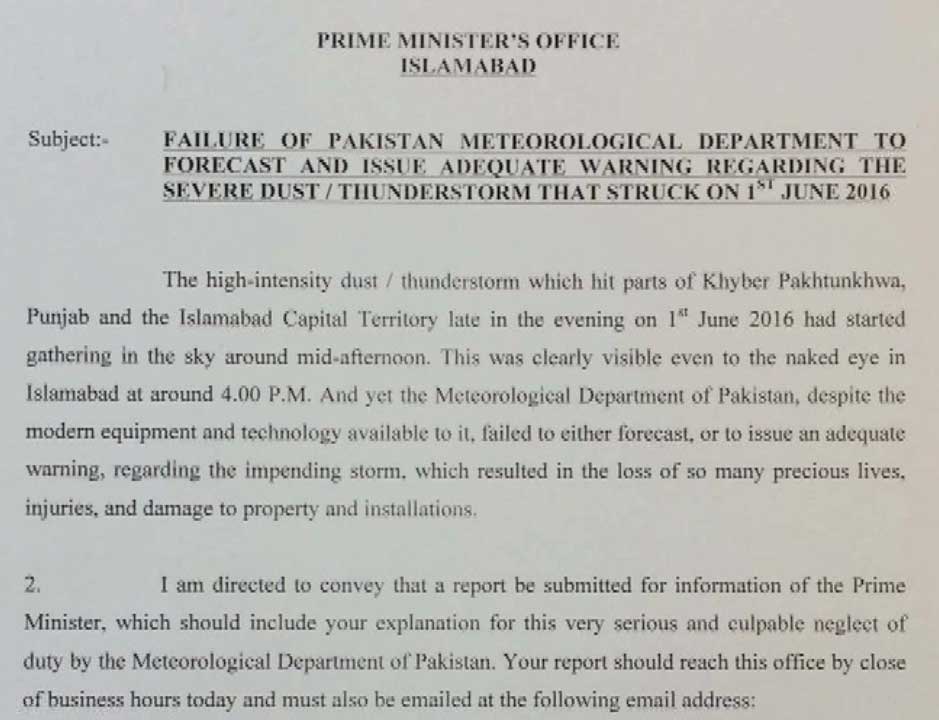 Copy of notice issued by the Prime Minister's Office
---
Reportedly, the casualties were mainly caused by falling trees, signboards and electricity poles and roof-collapse incidents. Gusty winds blew at a speed of 148km and 120km per hour in Islamabad and Rawalpindi, respectively.
---
WATCH VIDEO: