Nurses protest continued on fourth day at Mall Road Lahore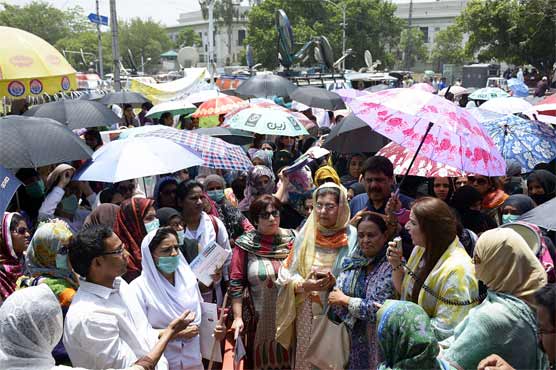 Nurses also protested for their rights in Faisalabad, Multan and Peshawar
LAHORE (Dunya News) – Protest of nurses at Mall Road Lahore and in various other cities continued on the fourth day as their demands for rights were not accepted, Dunya News reported on Thursday.
Nurses blocked the Mall Road as they sat in front of Punjab Assembly. There was also an exchange of bitter words between male nurses and people trapped in traffic. In Faisalabad nurses of civil hospital boycotted for the second day in a row.
Nurses of Nishtar hospital Multan protested on Nishtar road as they demanded restoration of service structure. In Peshawar nurses criticised provincial government as they protested.