Last Updated On 08 February,2016 About 6 years ago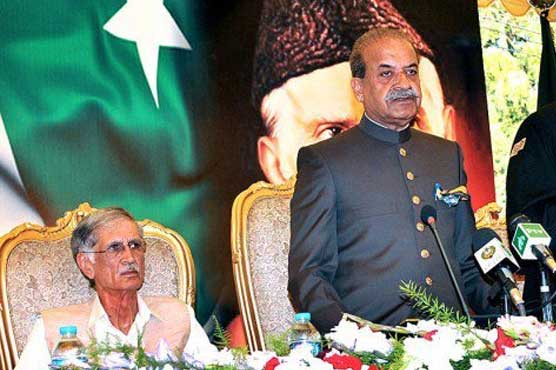 Nawaz Sharif has forwarded the resignation to President Mamnoon for final approval.
ISLAMABAD (Web Desk) – Prime Minister Nawaz Sharif has accepted the resignation of Governor Khyber Pakhtunkhwa Sardar Mehtab Abbasi today (Monday), Dunya News reported
As per details, Sardar Mehtab Abbasi handed over his resignation during a meeting with Prime Minister Nawaz Sharif on February 4.
Sources told that Abbasi wants to take part in General Election 2018, thus, he resigned from the post two years before the elections.
Nawaz Sharif has forwarded his resignation to President Mamnoon for final approval.
Names of Pir Sabir Shah, Engr Ameer Maqam, Gen (r) Salahuddin Tirmazi and Lt Gen (r) Tariq Ahsan are under consideration for the vacant seat.
---
ABOUT MEHTAB ABBASI
---
Sardar Mehtab Abbasi was sworn in as Governor of Khyber Pakhtunkhwa on April 15, 2014.
He was born on 15 December 1952 in Malkot, Abbottabad District to a Hindko speaking family of Hazara. He passed matriculation from Govt High School, Murree, and graduated from the Sir Syed School in Rawalpindi and then went on to do his LLB and practiced in the courts of Rawalpindi.
Finding the legal profession not to his liking, he joined his father Sardar Muhammad Nawaz Khan's clothing business in Rawalpindi Saddar.
Sardar Mehtab was elected for the first time in 1985 as an independent candidate of the provincial assembly. He served as provincial health minister from 1986 to 1988. He also kept portfolio of law during this tenure.
He was the former Chief Minister of Khyber-Pakhtunkhwa from 1997 to 1999 and Federal Minister for Railways in the 2008 PM Yousaf Raza Gillani cabinet.
During his tenure, he invested heavily in area of Circle Bakote, a relatively poor and underdeveloped area.
Mehtab Abbasi did not contest the general elections in 2002 for National Assembly, and therefore had to settle as a Senator in the March 2003 – March 2009 tenure.
In the 2008 general elections, Mehtab Ahmed Khan won NA-17 Abbottabad seat and hence vacated the Senate seat.
Sardar Mehtab lost the National Assembly seat in general election of 2013 but won the provincial seat and was unanimously elected as Opposition Leader in Khyber-Pakhtunkhawa Assembly.
He has also served as senior vice-president of Pakistan Muslim League-Nawaz (PML-N).