Imran Khan welcomes Modi's Pakistan visit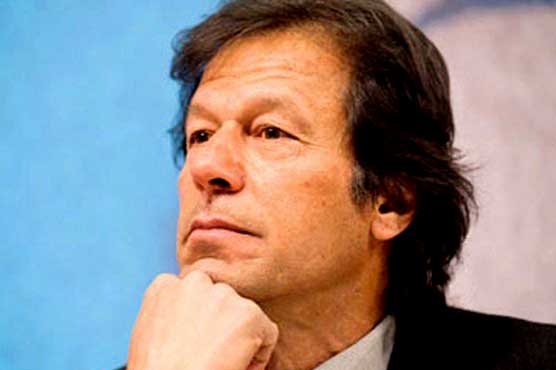 During my visit to India, I invited PM Modi to visit Pakistan: Imran Khan
ISLAMABAD (Dunya News/ AFP) – Chairman Pakistan Tehreek-e-Insaf (PTI) Imran Khan said on Friday that he welcomes the decision of Indian Prime Minister (PM) Modi's visit to Pakistan. PTI chief also said that during his visit to India, he invited PM Modi to visit Pakistan, reported Dunya News.
According to the details, Imran Khan said that the friendly visit of Indian PM is a positive step toward melting the ice between the two neighbours. He said that the peaceful and friendly relations between India and Pakistan are in favour of the whole region because both of the countries have great importance in the region. Imran Khan also said that to improve the relation, such meetings between the heads of states could help greatly and it gives the hope of dialogue and opens the way for conflict solving. He said that this meeting is being appreciated by the world.
Also read: Modi s leaves after surprise Pakistan visit on PM Nawaz birthday
Earlier today, Modi made a surprise visit to Pakistan on Friday to meet his counterpart Nawaz Sharif, weeks after the nuclear-armed rivals decided to restart high-level peace talks. It was the first time an Indian premier had stepped foot on Pakistani soil in more than 10 years and was seen by analysts as a step towards normalising ties between the two neighbours which have fought three wars. State TV footage showed an Indian Air Force jumbo jet land in the late afternoon at Lahore s Allama Iqbal International Airport where Sharif -- who celebrated his birthday the same day -- had flown in by helicopter moments earlier.
Sharif, flanked by his cabinet ministers, received Modi on the tarmac where military officers lined up along a red carpet. Both leaders wore their national dresses and made their way to Sharif s helicopter, which flew them to the Pakistani prime minister s palatial residence just south of the city. They were seen smiling as they walked alongside each other and chatted in Sharif s living room. Modi had earlier made the surprise announcement to visit Sharif on Twitter as he wound up his visit to Afghanistan with an address to the Afghan parliament. "Looking forward to meeting PM Nawaz Sharif in Lahore today afternoon, where I will drop by on my way back to Delhi," he said.
- Possible thaw? -
The last visit to Pakistan by an Indian prime minister was in 2004 by then leader Atal Bihari Vajpayee, who is credited with bringing about a thaw in relations with Islamabad.
Modi and Sharif have had a stop-start diplomatic relationship since the Indian premier s surprise invitation to Sharif to his inauguration last May.
Initial optimism about a revival of ties was short lived as the two countries traded heavy fire across their disputed border in the Himalayan territory of Kashmir which claimed dozens of lives on both sides.
But earlier this month, they agreed to resume high-level talks that would cover peace and security as well as territorial disputes, including over Kashmir.
A brief meeting between Sharif and his Indian counterpart Narendra Modi on the sidelines of the UN climate change summit in Paris on November 30, followed by talks between the two countries national security advisers in Bangkok, appeared to have broken the ice.
Though officials have remained tight-lipped about the agenda, the meeting was hailed by regional observers.
Imtiaz Gul, head of the Islamabad-based Center for Research and Security Studies, said: "It s an extremely welcome move and it shows that the baby steps promised at the Paris summit between the two Prime Ministers have transformed into a much bigger step, which holds big promise for both countries."
- Criticism at home -
Earlier Friday, in his speech to the Afghan parliament, Modi urged closer cooperation between India, Pakistan and other neighbours for Afghanistan s progress.
"We know that Afghanistan s success will require the cooperation and support of each of its neighbours. And, all of us in the region -- India, Pakistan, Iran and others -- must unite ... behind this common purpose," Modi said.
Modi also made a veiled reference to Pakistan on the issue of cross-border terrorism in Afghanistan.
"Afghanistan will succeed only when terrorism no longer flows across the border; when nurseries and sanctuaries of terrorism are shut; and, their patrons are no longer in business," Modi said.
India s main opposition party, Congress, was quick to criticise Modi s "irresponsible" decision.
In Pakistan, opposition senator Sherry Rehman said that while most Pakistanis backed better ties, parliament had not been consulted and it was unclear what concessions Islamabad was ready to make.
"It s a small step because we don t know what kind of sustainable progress is based around it. We don t know if this is more than a grand gesture," she told AFP.