Relief agencies battle to reach Pakistan earthquake victims, death toll crosses 275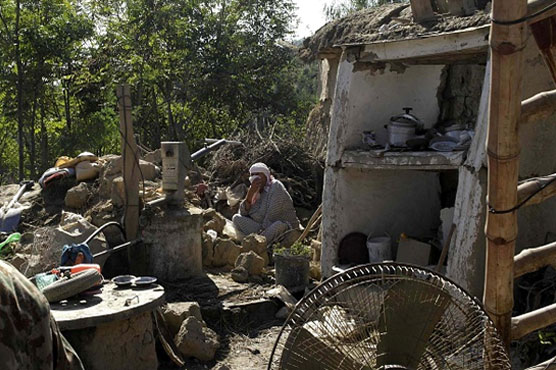 Swat Valley and areas around Dir, Malakand and Shangla towns were hard-hit by the earthquake.
ISLAMABAD (Web Desk / AFP) - Relief agencies were battling Wednesday to reach cold and hungry survivors of a devastating earthquake that has killed more than 275 people in Pakistan, with entire communities still cut off in the mountainous region.
Desperate victims appealed for aid after Monday s 7.5 magnitude quake ripped through the region, destroying thousands of homes, triggering landslides and stampedes, and knocking out communication lines.
NDMA introduced an interactive map for live updates.
---
Rescuers and the Pakistan military are now in a race against time to reach victims stranded in remote regions before the freezing weather conditions claim more lives.
"No one came to help us. We are sitting in open area. There was rain yesterday and no one came to help us," said Jamil Khan, a 24-year-old quake victim in Shangla, one of the worst hit districts of Pakistan s northwestern Khyber Pakhtunkhwa province.
---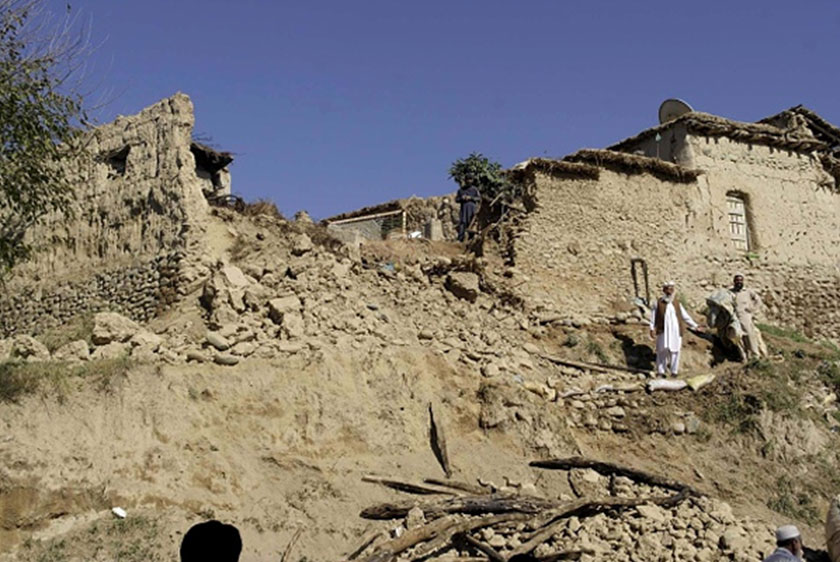 ---
During his visit in Peshawar today, Prime Minister Nawaz Sharif has announced Rs 600,000 compensation for heirs of each earthquake victim.
Addressing the media after reviewing relief activities in quake-hit areas of Khyber Pakhtunkhwa today (Tuesday), the Prime Minister stated the Federal Government will extend full support to Khyber Pakhtunkhwa in quake relief activities.
He said the compensation package has been prepared in consultation with the Khyber Pakhtunkhwa government whereas both the federal and provincial governments will share cost of the package.
Under the package, Rs 600,000 will be given to the family of each deceased and Rs 100,000 to each injured person. Similarly, Rs 200,000 will be given to the one who lost his limb or any other body part in the disaster.
The Prime Minister said that Rs 200,000 would also be given for the construction of completely damaged houses while Rs 100,000 each for the partially damaged houses.
He said the process of payment of compensation will start from Monday.
Pakistan s confirmed death toll stands at 267 people with 1,836 injured, but authorities fear the number could spike with communication from some regions, such as the district of Kohistan, still cut off.
Reportedly, more than eleven thousand houses have been damaged across the country.
---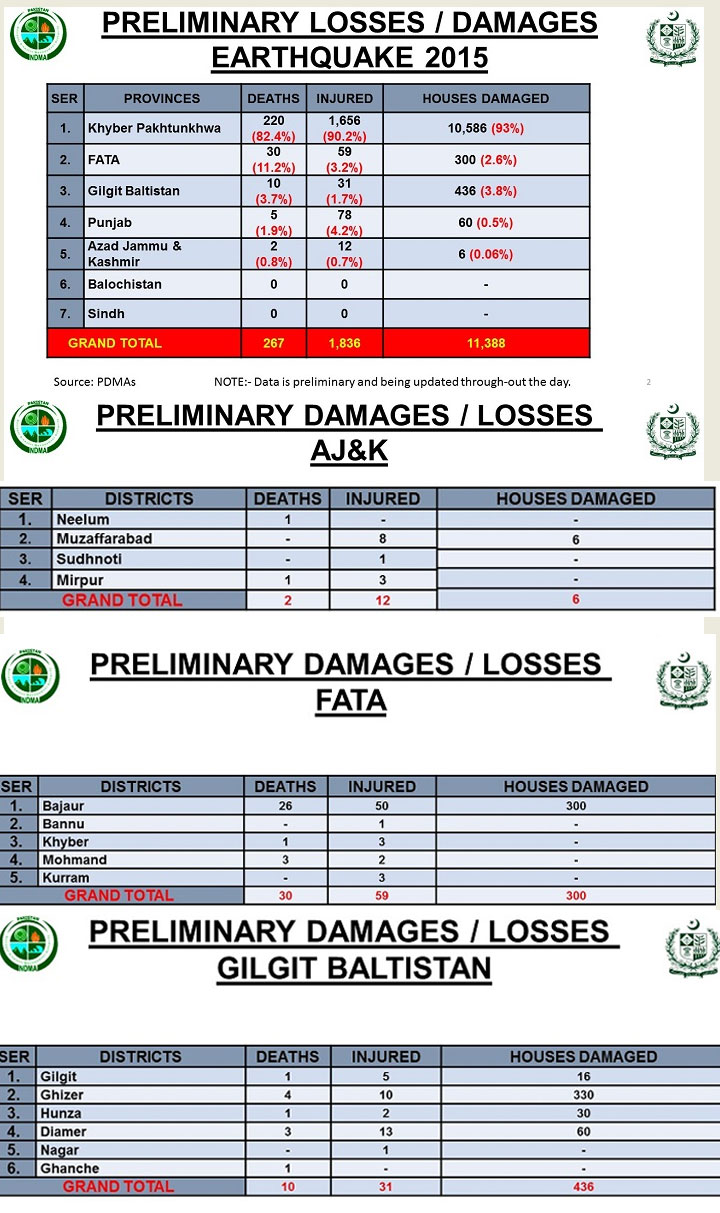 ---
The military has been leading Pakistan s rescue efforts, sending in medical teams, tents and rations to affected areas and evacuating some people by helicopter.
---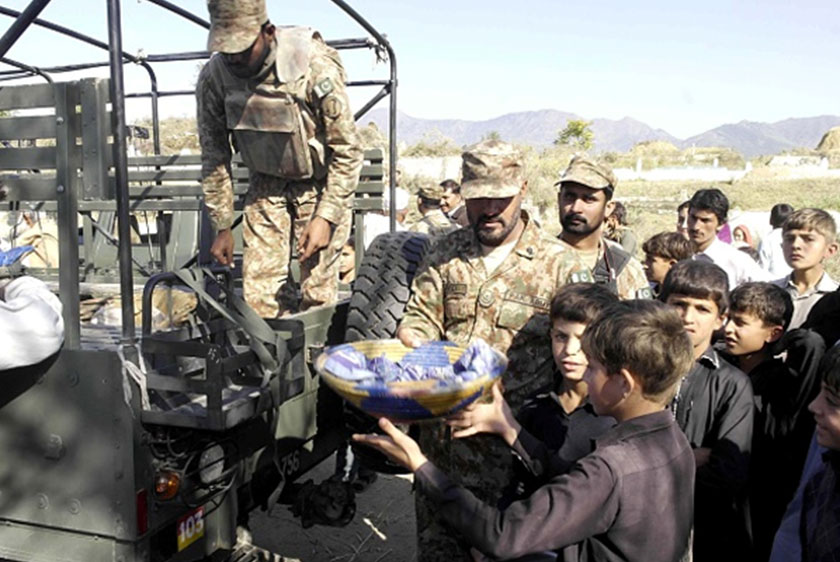 Army men busy in food distribution among quake affected people.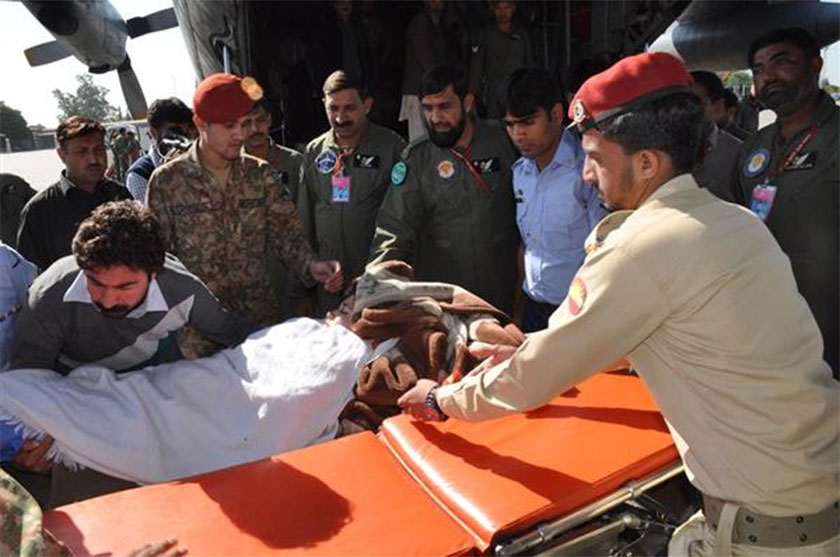 A woman was evacuated from Chitral to Combined Military Hospital Rawalpindi on Tuesday.
---
But in more remote areas residents have had to fend for themselves, with children and the elderly helping to dig through piles of rubble for survivors and locals appealing for blankets, warm clothes and food to survive.
"We lost everything. We could not save anything," said another Shangla resident, 60-year-old Hakim Khan, adding that the only thing they had been able to retrieve from the rubble was the body of a dead boy.
Officials said most of the casualties had occurred in northern and northwestern regions bordering Afghanistan and the death toll was likely to rise.
According to the Provincial Disaster Management Authority (PDMA), 220 people have been killed and 1656 others were injured in different areas of Khyber Pakhtunkhwa. 10,586 houses and 147 schools were also damaged across the province.
The picturesque Swat Valley and areas around Dir, Malakand and Shangla towns in the mountains of Khyber Pakhtunkhwa province were hard-hit by the earthquake.
---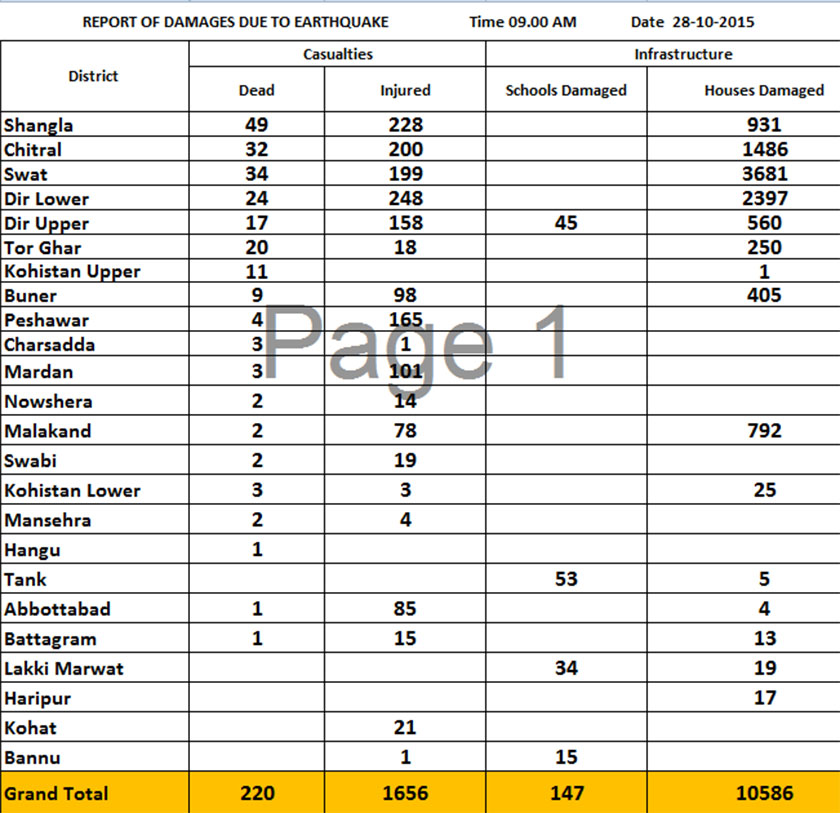 KP PDMA report shows number of casualties and property losses in quake affected areas.
---
Workers of Frontier Works Organisation (FWO), district administration, Army and police remained busy to clear roads after removing landslides to access the remote areas.
Pak Army said in a statement that engineers succeeded in reopening portions of the Karakoram Highway blocked by landslides caused by the quake. It allowed authorities to begin transporting relief supplies to affected areas in the northern regions, where dozens were killed and hundreds of others left homeless.
Helicopters and military planes were transporting relief supplies and military engineers were working on restoring communication lines disrupted by landslides.
---
MORE THAN 100 DEAD IN AFGHANISTAN
---
Afghan officials said at least 115 people were confirmed dead and hundreds more injured, with casualties reported from around half a dozen of the country s 34 provinces, and more than 7,600 homes reported damaged.
The US is among several countries that have offered to provide humanitarian assistance to Afghanistan, and Chinese state media said on Wednesday Beijing stood ready to help both countries if needed.
"What is most needed at this stage is medical assistance to the injured, medical equipments and shelter for the affected populations," said Kjersti Haraldseide, acting country director for Afghanistan for the Norwegian Refugee Council agency.
Antoine Sagot-Priez, country head of French aid agency Premiere Urgence Internationale, said they had already seen a "large influx of casualties" at one of their hospitals in the badly hit Afghan province of Kunar.
---
---
The World Health Organization said Tuesday it has distributed medical supplies to help thousands of people in the worst-hit parts of Afghanistan, and more trauma kits for 1,200 patients will be dispatched in the coming days.
The quake was centred near Jurm in northeast Afghanistan, 250 kilometres (160 miles) from the capital Kabul and at a depth of 213.5 kilometres, the US Geological Survey said.
Afghanistan is frequently hit by earthquakes, as it lies near the junction of the Eurasian and Indian tectonic plates. Monday s quake came six months after a huge earthquake in Nepal and an aftershock killed almost 9,000 people.
Large swathes of Badakhshan, the remote province where the epicentre is located, and other quake-stricken areas are effectively controlled by the Taliban, which Western charities said is hindering access to victims.
The militants Tuesday urged aid organisations not to hold back in delivering emergency relief and vowed their fighters would provide "complete help" in the affected areas.