Will shed last drop of blood for homeland: Major Raja Aziz Bhatti's last words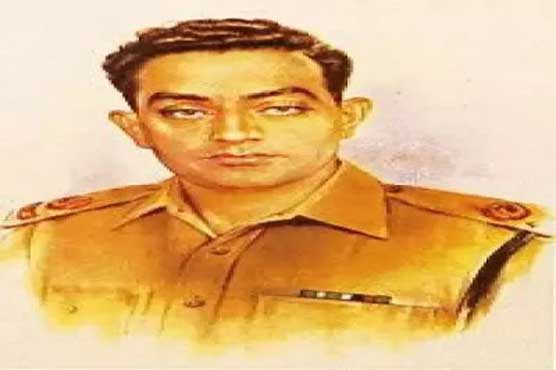 Just before getting martyred, Major Bhatti refused to go back despite being awake for 5 days
LAHORE: (Web Desk) – Hundreds of books have been written on 1965 war but one of the brightest chapters among those is that of Major Raja Aziz Bhatti Shaheed. Major Bhatti was a staff officer in Pakistan army when the war of 1965 war broke out. He had been commissioned into the Pakistan army in 1950 to the Punjab Regiment.
Being posted in Burki area of Lahore, Major Aziz Bhatti had a huge responsibility on his shoulders and that was of securing Lahore, the most important border city of the country.
Shelling was going on from the other side but despite the odds, Bhatti decided to move his platoon forward. Indian tanks and artillery continued to fire but the brave major continued to move his troops forward. Major Bhatti resisted the Indian army continuously for 5 days and 5 nights without sleeping for a moment. He was stationed at one of the most strategic outposts of Lahore, defending the BRB canal.
Despite the threat, Major raja Aziz Bhatti remained on the front while leading his team and kept his platoon informed about the moves of the enemy. For this purpose, he had to place himself on a higher position as the enemy tanks and artillery continued firing. Major Bhatti was exposed to the firing of the enemy and though he tried his best to counter Indian moves, he was hit by an enemy shell in the chest and embraced martyrdom.
Before getting martyred, Major Aziz Bhatti Shaheed was given a message that he needed to get some rest and that his replacement was going to arrive soon but he responded, "Do not recall me. I don't want to go back. I will shed the last drop of my blood in the defence of my dear homeland".
To honour his services in the 1965 war, Major Raja Aziz Bhatti Shaheed was awarded the highest military award of Pakistan i.e. Nishan-e-Haider. He is buried at his local village Ladian in Punjab.
Twitterati paid a rich tribute to Major Raja Aziz Bhatti Shaheed by trending #AzizBhattiOurInspiration on Saturday.
One of them said that the psychological disadvantage of this battle never allowed India to attack on BRB canal again.
Labbaik #Ghazwa_E_Hind !!! #AzizBhattiOurInspiration #BlessedPakArmy Always Zindabad ... #ZaidHamid pic.twitter.com/6CysxuoJSR

— SabeqoonUlAwwaloon (@sabeqoon) September 12, 2015
Bhatti kept on moving forward despite facing heavy shelling from the Indian side.
RT abeerhashim84: Bravery is not lack of fear but ability to move fwd in spite of fear #AzizBhattiOurInspiration pic.twitter.com/jPczQcX7KF

— Burhanuddin (@ThisIsBurhan) September 12, 2015
Lahore was saved by Bhatti forever.
I wish I could rub this on saifi baji s face.. #AzizBhattiOurInspiration #WeAllAreMajorAzizBhatti pic.twitter.com/YI96FpYDmE

— Rana Kashif (@kashirana883) September 12, 2015
Major Bhatti is an inspiration for Pakistani soldiers. And he will always be an inspiration for the nation.
Every time India Will Attack Pakistan, More and More Aziz Bhatti Will Emerge Within This Nation. #AzizBhattiOurInspiration

— Baloch (@Paki_Patriot007) September 12, 2015