Last Updated On 07 September,2015 About 0 seconds from now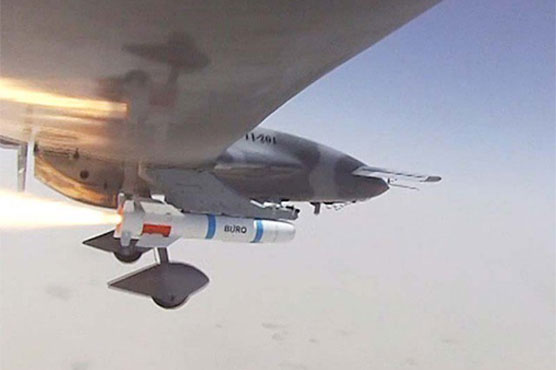 Burraq targeted a terrorist compound in the Shawal area of North Waziristan.
RAWALPINDI (Web Desk) – Pakistan Army on Monday used indigenous armed drone Burraq for the first time in the North Waziristan tribal region, killing three high-profile terrorists.
The strike took place in the Shawal area of North Waziristan, where the army has been battling militants linked to the Tehreek-e-Taliban and Al-Qaeda since June last year.
The drone strike was confirmed by DG ISPR Major General Asim Bajwa in a message posted on Twitter:
1st ever use of Pak made Burraq Drone today. Hit a terrorist compound in Shawal Valley killing 3 high profile terrorists.Details follow

— AsimBajwaISPR (@AsimBajwaISPR) September 7, 2015
The homemade armed drone "Burraq", which translates as "flying horse", was introduced to the public in March, with officials hailing it as a key element in the country s ongoing war against terrorism.
In the past, the US carried out a series of drone strikes in the tribal regions. Pakistan termed the US drone attacks a violation of its territorial sovereignty.
The army has been waging a major offensive to clear militant hideouts in North Waziristan since last June. North Waziristan is one of seven semi-autonomous tribal districts that border Afghanistan. It has been a hub for Al-Qaeda and TTP militants since the early 2000s.

So far, more than three thousand terrorists have been killed in ongoing operation Zarb-e-Azb.