Last Updated On 18 July,2015 About 0 seconds from now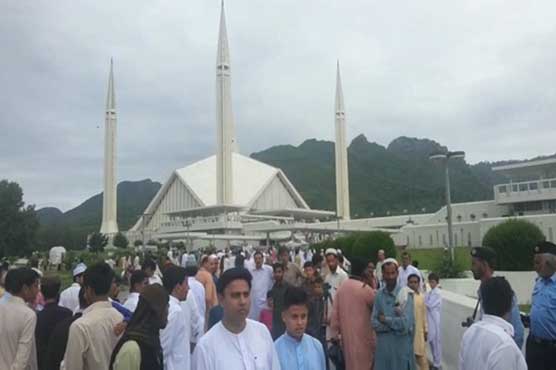 A large number of people offered Eid prayers at the Faisal Mosque.
ISLAMABAD (Web Desk) – Hundreds of people missed their Eid prayer due to strict security for President Mamnoon Hussain at Faisal Mosque today (Saturday), Dunya News reported.
A large number of people including parliamentarians, ministers and diplomats of Islamic countries also offered Eid prayers at the Faisal Mosque.
Reportedly, several people gathered outside the mosque to lodge their protest as they were barred from entering the premises due to VIP security.
After Eid prayer, the President congratulated the entire nation on the festive day of Eid.
The President said sharing Eid happiness with others is reflective of the fact that we are an organized Ummah, caring for each other.
He said it should be our endeavour that foundations of the country should firmly remain on democratic process.
Mamnoon Hussain said a corruption free and just society can be established if our institutions play their due role.