Last Updated On 21 June,2016 06:08 pm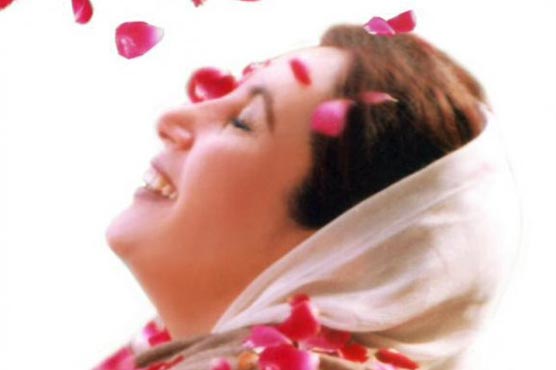 'Bhutto ki Beti' remained one of the biggest celebrities from Pakistan throughout her life
LAHORE: (Web Desk) – 'Darling of the Crowd' Benazir Bhutto was born on June 21, 1953 in Karachi's Pinto Hospital. It's just her 62nd birthday but it's been more than 7 years since she was murdered by a terrorist in 2007 in Rawalpindi while returning from a public meeting during 2008 election campaign. She was a larger than life character. Being the daughter of one of the biggest Muslim political personalities of the 20th century, Benazir Bhutto had seen a lot during her short life of 55 years.
Benazir saw her father, Zulfiqar Ali Bhutto, becoming the foreign minister of Pakistan, then the first and only civilian martial law administrator of the country, then the President, the Prime Minister and finally she saw him getting hanged. She saw exiles, jails, malicious campaigns, oppositions, conspiracies and of course power. But one thing all her devoted workers testify to was her ability to remember them. She knew them; almost all of the old guards, from Peshawar to Karachi; she knew them by their names.
Born to a popular political family of Sindh, Benazir Bhutto was the daughter of Zulfiqar Ali Bhutto, who later founded Pakistan People's Party (PPP), and granddaughter of Sir Shahnawaz Bhutto. Her mother, Begum Nusrat Bhutto, was from Iranian-Kurdish descent and Benazir was the eldest of her 4 kids. Sanam Bhutto, Shahnawaz Bhutto and Murtaza Bhutto were the other three.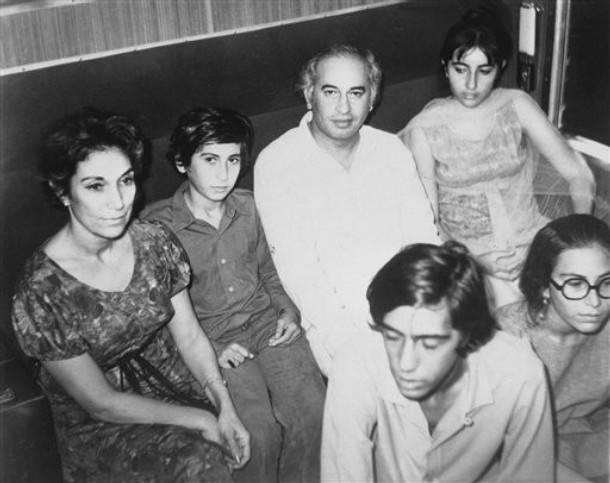 Benazir started her political career when Zulfiqar Ali Bhutto went to India for negotiating the the situation after the 1971 war and took Benazir with him. There, the young Bhutto met Indira Gandhi, the then Prime Minister of India. She saw her father pleading Pakistan's case, negotiating from a point of weakness, before a proud and victorious Indira Gandhi. She learnt the art of politics from The Bhutto himself.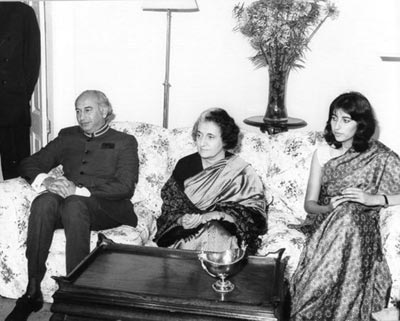 When General Ziaul Haque staged a coup and overthrew Zulfiqar Ali Bhutto's government in 1977, Benazir was only 24 years of age but she led the protest rallies at this young age with brilliance. Meanwhile, she was also the closest aide of her father when the latter was in jail. In his book 'Last 323 days of Bhutto', Colonel Rafiuddin has mentioned that Zulfiqar Ali Bhutto and Benazir Bhutto talked to each other in ears so that the bugged dungeon was unable to transmit their discussions to the government authorities.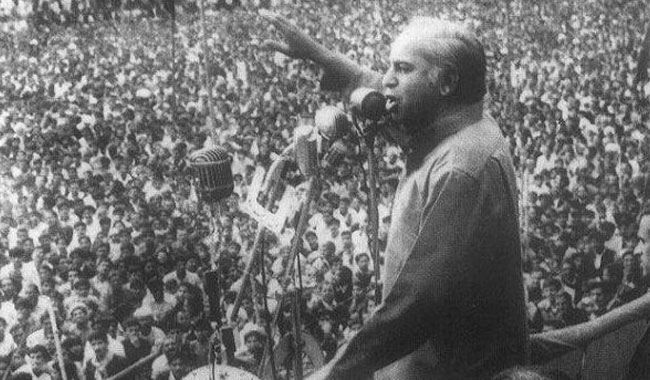 Zulfiqar Ali Bhutto was hanged on April 4, 1979, despite many clemency appeals from the foreign leaders. Benazir was immediately arrested along with her brother Murtaza Bhutto. Later, she was house arrested at her home in Larkana. In 1981, the military regime imprisoned her in a solitary confinement in a desert cell of Sindh. As she described the conditions she lived in during those days, her situation was miserable. Her hair started to fall and her skin 'split and peeled'. She lived in this wall-less cell along with mosquitoes, grasshoppers, bugs, ants and spiders. "I tried pulling the sheet over my head at night to hide from their bites, pushing it back when it got too hot to breathe", she wrote in her book Daughter of Destiny . She was hospitalized for several months afterwards and then imprisoned again.
Finally in 1984, Bhutto family was allowed to travel abroad under international pressure for medical treatment. Benazir Bhutto had a political rebirth in exile as she was allowed to use media in the West as a tool for spreading her message. However, in 1985, she received yet another shock when learned that her brother Shahnawaz had been poisoned to death.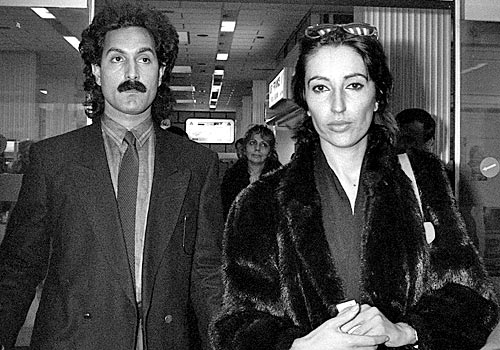 In 1986, Benazir Bhutto returned to Pakistan. She came to Lahore, the heart of Pakistan, and was given one of the warmest welcomes ever in the city s history. She was cheered from the rooftops by the ladies, hundreds of thousands of people rallying behind her as her caravan moved slowly towards the walled city. It was massive. Lahore hadn't seen anything like this before. Crowd went wilder as she waived her hands at them in her father's style.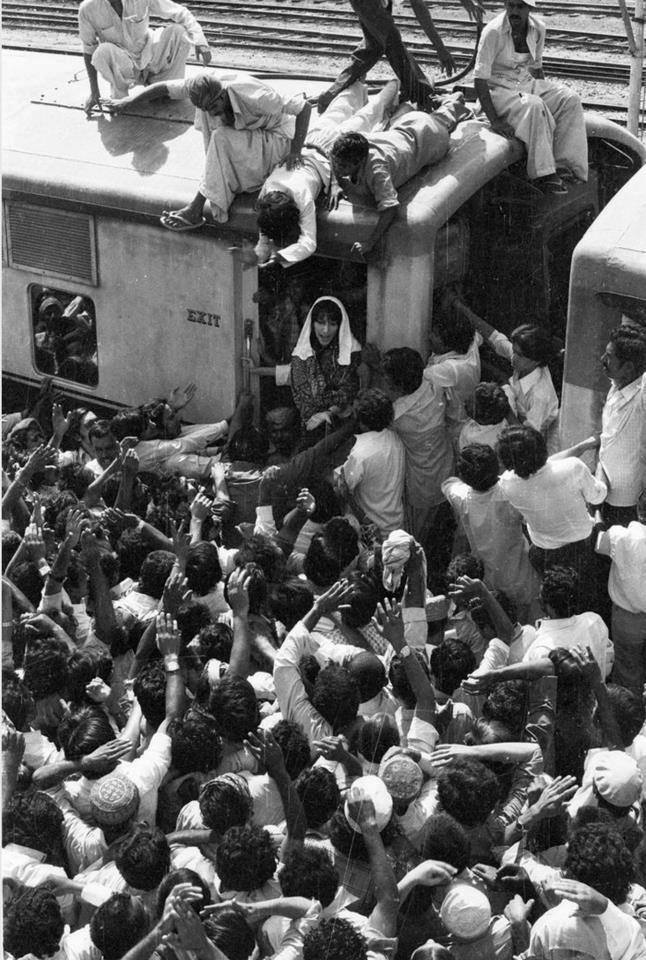 ---
"We gather together to celebrate freedom, to celebrate democracy, to celebrate the three most beautiful words in the English language: 'We the People'."
---
General Elections were held in 1988 after General Zia's death in a plane crash on August 17 that year. She became the prime minister as a result of these elections as PPP won the largest number of seats in the National Assembly.
She said in her address to the nation, "We gather together to celebrate freedom, to celebrate democracy, to celebrate the three most beautiful words in the English language: 'We the People'."
However, her tenures in PM Office remained turbulent. While there were some busy forging alliances against her party, bringing all the anti-PPP politicians and political parties together under the umbrella of Islami Jamhuri Ittehad (IJI), Benazir Bhutto was finding it tough to handle the civil-military establishment as the Prime Minister. Finally, her government was dislodged in 1990 over corruption charges by President Ghulam Ishaq Khan (Late). PPP lost the 1990 election to IJI and Nawaz Sharif, who had been Punjab's Chief Minister twice till then, became the Prime Minister of Pakistan for the first time. Benazir Bhutto assumed the role of the Opposition Leader.
Three years later, Benazir came to power again. She worked on power crisis during this term and her IPPs policy successfully curbed the load shedding issue in the country for a few years to come. However, these very IPPs became a major problem for her as corruption charges leveled against her by the opposition in these projects heavily dented her credibility and in 1996, President Farooq Leghari dissolved the assemblies. Benazir wasn't allowed to complete her term once again. It was also during this tenure that her other borther, Murtaza Bhutto, was assassinated.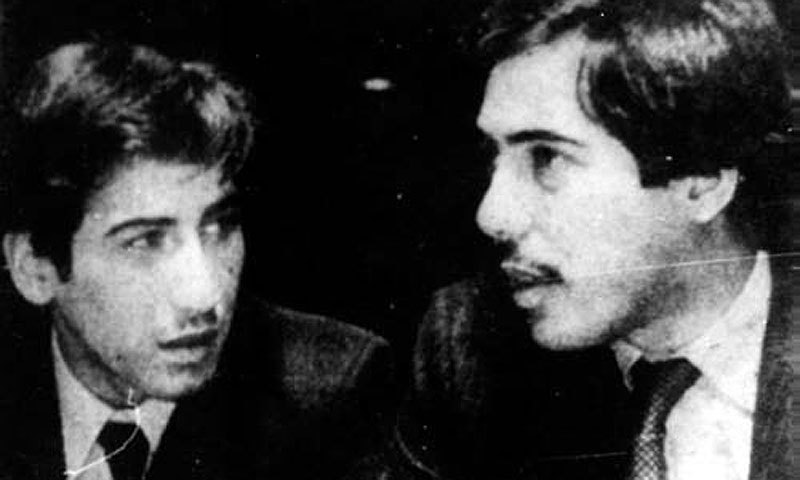 The caretaker government that followed after her dismissal made corruption cases against her and the following government of Prime Minister Nawaz Sharif vigorously followed the cases, forcing Benazir into yet another self-imposed exile while her husband Asif Ali Zardari was still in jail. The vacuum created by her absence allowed the military to take over the government once again and in 1999, Nawaz Sharif's second government was also removed by General Pervez Musharraf. Nawaz Sharif was first sent to jail and after remaining there for 14 months, he was also sent into exile to Saudi Arabia.
Musharraf pursued the corruption charges against Benazir Bhutto and Nawaz Sharif quite enthusiastically. Both the leaders were kept out of Pakistan's politics for the next several years. However, their political parties continued their struggle against the military regime.
---
Consequently, Benazir returned to Pakistan and Musharraf was elected by his allies as the president. PPP, allegedly under the deal, didn't give any serious opposition to the decision.
---
In 2006, Nawaz Sharif and Benazir Bhutto shook hands in London, signing the Charter of Democracy. The old enemies now called each other their siblings. But it was actually a masterstroke by Benazir. With Nawaz's support behind her, Benazir started negotiations with the Musharraf regime from a point of strength. Keen to break the exiled duo, Musharraf offered Benazir a safe passage in return for his election as president for another term in military uniform. Consequently, Benazir returned to Pakistan and Musharraf was elected by his allies as the president. PPP, allegedly under the deal, didn't give any serious opposition to the decision.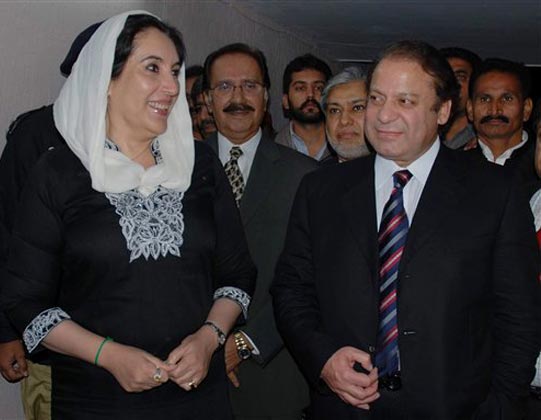 But this was the beginning of the end. Benazir came back to Pakistan after 11 years of self-imposed exile on October 18, 2007. This time it was Karachi. And it was an equal, if not bigger, reception. Benazir was back in Pakistan again. PPP supporters from all over the country came to Karachi to welcome their heroine. But the terrorists had other plans. At around 10 pm in the night, while her caravan moved slowly towards its destination, a bomb blast near Benazir's truck was heard. 200 supporters lost their lives in a blink of an eye and several others were injured.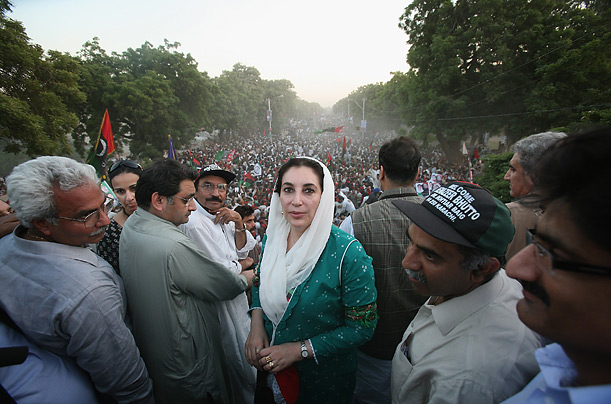 But Benazir wasn't one of those who get terrified. She led her party in the election campaign. From Peshawar to Karachi, she led them everywhere; convening meetings, addressing public rallies, holding press conferences. PPP was all set to win the elections as per all the major polls including IRI and Gallup.
But then, just like in Greek mythologies the hero has to die to become immortal, Benazir's life had to come to an end. Nobody knew that while the PPP would go on to win the election, 'Bibi' was never going to make it to that point.
On December 27, 2007, she went to Liaquat Baagh, Rawalpindi, to address a massive public meeting. Her face was glowing. She delivered a fiery speech. Just like her father used to do.
Nobody in the crowd might have known while singing in chorus with her 'Zinda hai Bhutto, Zinda hai', that their slogan would be changed to 'Zinda hai Bibi, Zinda hai' shortly. Returning, happy, from the venue, Benazir saw a group of supporters chanting slogans around her car. She stood up through the sun-roof of the car roof to waive her hand at the supporters. And just then, out of nowhere, a terrorist shot her in the head. An explosion was heard just then.
She was rushed to the hospital. And there, amid the sobbing and mourning supporters, Babar Awan informed the media that Benazir was dead. Even Nawaz Sharif, now the Prime Minister of Pakistan, was seen weeping while talking to international media. "This is the saddest day in Pakistan s history", he said.
PPP went on to win the election and her husband Asif Zardari was elected the president after the civilian leadership forced the former military general to resign. Benazir's legacy won PPP the elections but today, her party is nowhere near its zenith. After losing the 2013 elections, PPP also lost the recent local body elections in KP and then the Legislative Assembly elections in Gilgit-Baltistan as well.
Surely, there would have been other reasons of PPP's decline but one thing that alienated the workers is that despite 5 years of rule in the center after her death, on her 62nd birthday, Benazir's murderers are still at large.