Last Updated On 06 June,2015 About 0 seconds from now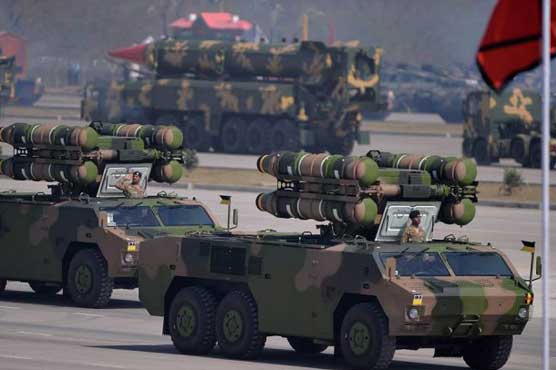 India's defense budget is sixfold that of Pakistan's amounting to US $38.35 billion
LAHORE (Dunya News) – At least Rs 781 billion have been reserved for the defense sector in the budget for the fiscal year 2015-16 while India's is sixfold that of Pakistan.
The defense budget has been reduced by at least 11 percent in comparison to the last fiscal year. The armed forces will be given Rs 781 billion for 2015-16. The budget will accommodate the Pakistan Army, Pakistan Air Force (PAF), Pakistan Navy, Strategic Forces and Civil Armed Forces.
The army will get Rs 371 billion whereas Rs 331 billion out of a total of Rs 720 billion. The PAF will be given Rs 164 billion while the navy draws a share of Rs 84.94 billion from the dedicated defense amount.
Although the budget has been increased by 11 percent but considering the total budget, the amount has decreased in this fiscal year.
On the other hand, India's defense budget is sixfold that of Pakistan's amounting to US $38.35 billion. Within a span of 13 years from 2001-2014 India's defense budget has increased from US $11.8 billion to US $38.35 billion.
Pakistan spends at least US $8,077 on one soldier annually whereas India spends as many as US $17,554.
The government has allocated at least Rs 100 billion separately for Operation Zarb-e-Azb.