India behind terrorist activities in Pakistan: Sartaj Aziz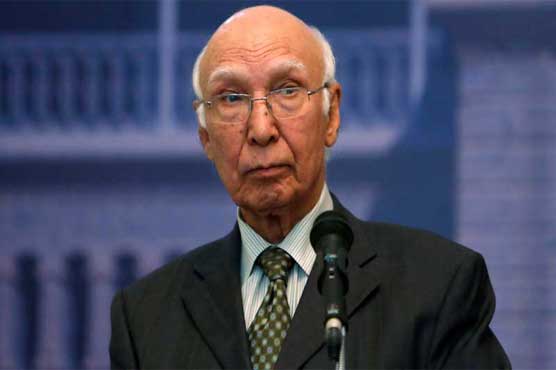 Pakistan doesn't interfere in other countries' internal issues, expects same from others: Sartaj
ISLAMABAD (Dunya News) – Advisor to Prime Minister Nawaz Sharif on Foreign Affairs Sartaj Aziz has said on Tuesday that India is involved in terrorist activities in Pakistan. He was talking to media in Islamabad. He said that Indian Foreign Minister Sushma Swaraj's statement is condemnable. Sartaj Aziz said that Pakistan does not interfere in other countries' internal issues and expects the same from others.
He said that Pakistan wishes for good relations with all the countries and believes in detailed and fruitful dialogue. Sartaj Aziz expressed wonder on Indian Minister s statment on the issue of Pakistan-China Economic Corridor. He said that the project will bring stability in the entire region. He quoted the Chinese Foreign Office's statement and said that even China has clearly said that this project is between two countries and it is not against any other country.
Answering a question about Kashmir, Sartaj Aziz said that India is involved in severe violations of human rights in Kashmir. He said that Kashmir issue cannot be solved without the consent of Kashmiris and they should be given their right of self-determination according to the United Nation's (UN) resolutions. He said that all issues including Kashmir should be solved through dialogue.