Live - Results of KP's local body elections continue pouring in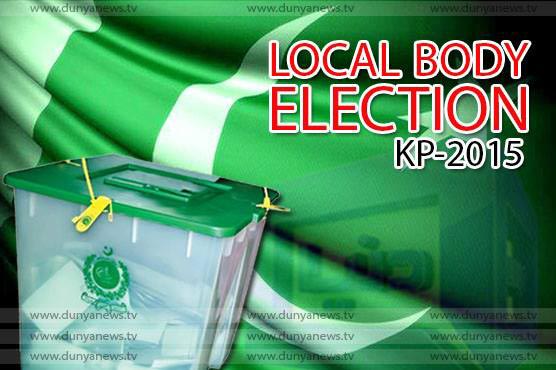 Local body elections are being held after 10 years in the province
PESHAWAR (Dunya News) - Polling to elect 41,762 candidates in local bodies elections ended in Khyber Pakhtunkhwa on Saturday evening.
In all, 84,420 candidates ran for the prescribed seats across the province.
Meanwhile, extraordinary security measures were taken to ensure peaceful atmosphere on the polling stations. Even then there were scenes of clashes that claimed 10 lives and left several wounded.
The polling which started at 08:00am continued until 05:00pm without any break.

---
Live Updates
Party Position (Number of Seats - District wise)
| | | | | | | |
| --- | --- | --- | --- | --- | --- | --- |
| PTI | ANP | JUI-F | JI | PML-N | PPP | Others + Independent |
| 277 | 117 | 116 | 78 | 98 | 8 | 147 |
---
15:29 PTI wins in Swat by snatching 24 seats
---
14:25 DIK, ward 23: PTI s Amjad Khan wins with 2812 votes
---
14:14 Haripur, tehsil council, ward 15: PTI s Malik Waqas in lead with 2927 votes
---
14:12 Kohat, tehsil council, ward 9: PTI s Mubeen Ali in lead with 2801 votes
---
14:11 Kohat, district council, ward 9: Independent candidate Abdul Ali in lead with 2680 votes
---
14:00 JUI-F in lead by snatching 7 seats in Tank

---
13:39: PTI grabs four seats in Tank

---
13:10: Malankand, tehsil council, ward 23: PTI s Jamal Hussain in lead with 1067 votes
---
13:07 Malakand, tehsil council, ward 28: PTI s Khan Bahadur in lead with 1300 votes
---
13:00 Malakand, tehsil council, ward 16: PTI s Usman Ali in lead with 1000 votes
---
13:00 Governor KP s son Shamoonyar Abbasi wins the seat with 2157 votes
---
12:47 Hangu, tehsil council, ward 7: JUI-F Abdul Latif in lead with 862 votes
---
12:45 Hangu, district council, ward 7: Independent candidate Mohammad Wahid in lead with 667 votes
---
12:43 Mansehra, ward 3: Independent candidate Syed Shahjahan Shah in lead with 171 votes
---
12:42 Mansehra, ward 2: Independent candidate Matloob ur Rehman in lead with 2540 votes

---
12:22 DIK, district council, ward 25: PTI s Humayun Khan in lead with 2432 votes
---
12:20 DIK, district council, ward 29: PTI s Nadir Khan in lead with 2514 votes
---
11:39: Swat, district council, ward 46: PML-N s Atta Ullah in lead with 1465 votes
---
11:36 Swat, tehsil council, ward 39: PTI's Gohar Ali in lead with 3075 votes

---
11:29 Upper Dir, district council, ward 13: PML-N's Ghaffar Khan in lead with 830 votes
---
11:28 PTI's Bacha Khan in lead with 1463 votes in Swat tehsil council ward 40
---
11:27 PTI's Jahanzaib Ali in lead with 1944 votes in Swat district council ward no.40

---
11:13 PTI wins 2 seats, JUI-F also gets two, ANP snatches 1 whereas PML-N also takes 1 seat in Ghagra Tehsil
---
11:12 4 out 5 seats have been snatched by ANP in Khadokhel
---
11:09 JUI-F wins all five seats in Mandanar Tehsil
---
11:06 All four members in Bonair have been elected
---
8:09 Pabbi: ANP s Mian Iftikhar arrested along with guard for killing PTI worker
---
8:04 Tank: Independent candidate Zahir Shah wins election from ward 9 with 1406 votes
---
7:59 Kurk:
JUI-F s Hafiz Daud  wins election from ward 5 with 1200 votes

---
7:56 Kurk: Independent Candidate Taj Malook wins election from ward 5 with 850 votes
---
7:52 Upper Dir: JI s Mukhzn-ud-din wins election from ward 2 with 1727 votes
---
7: 50 Upper Dir: PTI s Shakir Ullah wins election from ward 12 with 1322 votes
---
7:47 D.I Khan: PPP s Mohammad Hanif wins election from ward 35 with 2950 votes
---
7: 44 Tank: JUI-F s Maulana Zia-ur-Rehman wins election from ward 16 with 1272 votes
---
6:42 Bunair: PTI, ANP won 8 seats each
---
6:01 D.I Khan: Provinical Minister Ali Amin picked vote filled ballot boxes frm polling station, car surrounded by crowd
---
5: 34 Abbotabad: PML-N s Shamoon Yar Abbasi wins election from ward 8 with 2157 votes
---
5:32 Haripur: PTI s Aslam Hayat wins election from ward 38 with 2310 votes
---
5:30 Hangu: JUI-F s Zaman Noor Bangush wins election from ward 16 with 750 votes
---
5:28 Kohat: JUI-F s Iqbal Afridi wins election from ward 1773 from ward 12 with 1773 votes
---
5:26 Kohat: PTI s Syed Karamat Shah wins election from ward 3 with 1781 votes
---
5:25 Malakand: JUI-F s Mohammad Naeem wins election from ward 19 with 902 votes
---
5:23 Malakand: JUI-F s Rasheed Khan wins election from ward 19 with 1262 votes
---
5:09 Mansehra: 20 out of 59 results announced, PTI grabs 4 seats, 11 independent candidates win
---
4:50 Swat: District Council, ward 37, PTI s Habib-ur-Rehman succesful with 3533 votes
---
4:48 Shangla: District Council, ward 10, PML-N s Intekhab Alam succesful with 997 votes
---
4:45 Shangla: District Council, ward 15, JUI-F s Gul Ahmed succesful with 612 votes
---
4:42 Upper Dir: District Council, ward 1, JI s Ghyas-ud-din succesful with 1493 votes
---
4:39 Shangla: Distrcit Council, ward 14, PML-N s Mohammad Arif succesful with 671 votes
---
4:36 Shangla: District Council, ward 8, PML-N s Sabir-ur-Rehman succesful with 957 votes
---
4:07 Upper Dir: District Council, ward 3, JI s Haji Gul Amin succesful with 913 votes
---
4:04 Upper Dir: District Council, ward 4, JI s Rafiullah succesful with 1106 votes
---
3:38: Shamoon Yar Abbasi succesful from District Council, ward 8 with 2157 votes. Shamoon Abbasi is the sun of Governor KP Mehtab Abbasi.
---
3: 28 Mardan: Results of 12 out of 75 seats announced. ANP leads with 8 seats
---
3: 20 Swat: Results of 22 out of 67 seats announced. PTI wins 7 seats, PML-N wins 5 seats
---
3:02 Peshawar: Results of 7 out of 93 seats announced, PTI ahead winning 4 seats
---
11: 33 Karak: Voters takes employees of Election Commission as hostage in Karak.
---
11:32 Kohat: JUI-F s Muhammad Ashfaq wins elections after securing 2009 votes in ward 10
---
11:29 Shangla: PML-N s Sher Ali wins elections in ward 16 after getting 637 votes.
---
11:24 Hangu: Waheeb Bangash wins election after securing 1521 votes in ward 10.
---
11:22 Swat: ANP s Jan Zada wins elections in ward 31 after bagging 1013 votes.
---
11:19 Mardan: ANP s Sajjad Ali secures 4366 votes, winning in ward 75.
---
11:16 Hangu: JUI-F s Ubaidullah wins election in ward 10 after getting 1836 votes.
---
11:12 Abbotabad: Indepedent candidate Sher Bahadur Khan wins in ward 37 after getting 1658 votes.
---
11:08 Swat: PTI s Muhammad Bahadur wins elections after securing 1200 votes in ward 41.
---
11:04 Swat: PTI s Kishwar Ali wins elections after bagging 2330 votes in ward 5.
---
10:58 Swat: PTI s Sultan Rom wins elections after getting 1700 votes in ward 13.
---
10:54 Swabi: ANP s Hussain Ahmed wins elections, securing 1260 votes in ward 56.
---
10:48 Bunir: Anwar Iqbal secures 1907 votes to win elections in ward 29.
---
10:44 Mardan: PPPs Asad Ali secures 1860 votes in ward 10 to win elections.

---
10:33 Swat: ANP s Iftikhar Ahmed wins elections bagging 1500 votes in district council seat in ward 31.
---
10:28: Former President and PPP co-chairman Asif Ali Zardari has crticized KP LB polls. He has alleged that the whole world has seen the rigging conducted by PTI adding that Imran Khan s intentions have been seen during the LB polls.
---
10:24 Hassanzai Tehsil: ANP s Syed Muhammad Khan wins in ward 10 by securing 610 votes.
---
10:20 Shangla: Independent candidate Haji Sultan wins elections in ward 28.
---
10:16 Taank: PTI s Ameer Gul wins by taking 981 votes in ward 10 in district council.
---
10:12 DI Khan: PTI s Muhammad Rehan wins elections in ward 2 by obtaining 1073 votes.
---
10:08 DI Khan:
JUI s Malik Mushtaq wins elections by grabbing 2060 votes in ward 2.
---
10:03 Peshawar: PTI s Younus Zaheer grabs 1650 votes to win elections in ward 10.
---
9:59 Swat: PML-N s Umar Rabi secures 1756 votes to win election in ward 2.
---
9:56 Nowshera: PTI s Haji Nosher wins election in ward 43 by grabbing 2210 votes.
---
9:52 Peshawar: Violation of 144, firing heard in various parts of city.
---
9:48 Peshawar: JUI s Muhammad Zubair wins election in ward 38 by securing 776 votes.
---
9:43 Torghar Tehseel: PTI s Latifur Rehman wins election by bagging 536 votes in ward 14
---
9:39 Torghar: Ali Ahmed of ANP wins election in ward 12 by grabbing 1670 votes.
---
Top 4 parties in KP local body elections:
---
9:33 Bannu: JUI-F s Sajjad Zargar s wins by bagging 1188 votes in ward 2.
---
9:32 Torgar district council: PTI s Dilroz Khan wins election in ward 14 by obtaining 512 votes.
---
9:28 Karak: Firing in Sabirabad area, independent candidate for Tehsil Council Ali Marjan injured.
---
9:25 Abbotabad: N-league s Shoukat Haroon wins bby grabbing 3571 votes in ward 23.
---
9:19 Hangu District: PTI s Majid Saleem wins by bagging 825 votes in ward 4.
---
9:13 Lower Dir: Azhar Taqum wins by grabbing 1323 votes in ward 37.
---
9:07 Haripur Tehseel: Independent candidate Samiullah wins election uncontested in ward 37.
---
9:00 Batgram district: PTI s Niaz Muhammad wins election in ward 8 without contest.

---
8:54 Charsadda: Firing kills Qaumi Watan Party s leader Maqsood Khan: police
---
8:49 Batgram district: PTI s Attaur Rehman wins election in ward 3 without contest.
---
8:44 Bunir district: PML-N s Kamran Khan secures 1500 votes in ward 8.
---
8:39 Mardan district: ANP s Ishaq Khan wins elections in ward 44, bagging 4600 votes.
---
8:33 Mardan: PTI s Aziz Khan wins elections by securing 2701 votes in ward 44.
---
8:27 Buner: PML-N s Arshad Alam win elections after obtaining 1211 votes in ward 16.
---
8:19 Kagra: JI s Sartaj Khan wins with 1722 votes in ward 18 in Tehsil Council elections.
---
8:12: Lakki Marwat: JUI-F s candidate grabs ballot box and flees the scene.

---
8:05 Kohat: PTI s Wazir Badshah wins in Tehseel Council elections in ward 14, voter turn out was 40%.

---
7:55 Torgar: ANP s Syed Ahmed Khan wins by taking 350 votes. Voter turn out was 37% in ward 12.
---
7:48 Taank: Malik Rehmat Ali wins by taking 626 votes in UC Saran Ghona, ward 14. Voter turn out was 48%.
---
7:39 Charsadda: JUI-F s district secretary general Gohar Ali under arrest for alleged involvement in murder.
---
7:35 Peshawar: Protestors block GT road to protest against the disorder in local body elections.

---
7:29 Buner: Kamran Khan win by obtaining 1500 votes in ward 11. Voter turn out was 35%.

---
7:24 Shangla: PTI s Zia ul Haq wins election in ward 3. Voter turn out was 70%.

---
7:20 Mardan: Clashes between supporters of ANP and independent candidate. 2 people injured.

---
7:08 Lower Dir: JI s Moulana Muhammad Gulab wins election, obtaining 803 votes.

---
6:58 Buner: PTI s Riaz Khan wins election by obtaining 998 votes in ward 24. Voter turnout was 30%.

---
6:47 Abbotabad:
Independent
UC candidate Saifur Rehman killed due to firing.
---
6:38 DI Khan: Firing in Ganju area, 2 persons dead.
---
6:22 Charsadda: Firing in Sherpao area leaves 2 people dead and one injured.
---
6:07 Kaghan: Independent candidate and PML-N supporters fire at each other. 20 people injured.
---
6:01 Tank: JUI-F candidate, Qamar Hakeem , wins elections in UC Tank city, ward 15.
---
5:51 Nowshera: ECP directs to increase polling time by 2 hours.
---
5:43 Peshawar: Armed clashes between JI and ANP workers in Yousufabad. Police contigent sought.
---
5:36: Kohat: Voter turn-out estimated to be 43%.
---
5:19 Kohat: UC Samari, Sabir Shah successful with 1024 votes in ward 14.
---
5:03 Haripur: Sardar Haroon, PTI candidate, wins in ward 6 after getting 3675 votes.

---
4:45 Swat: 5 PTI workers arrested from Manglor, ward 14 over scuffling.

---
4:37 Tirai Upper: Firing outside UC 87 leaves 2 persons injured.
---
4:30 Mansehra: 2 groups clash with each other, polling stopped.

---
4:23 Charsadda: Firing by unidentified persons on Rashki polling station, no casualities reported so far.
---
4:12 Chief Minister Khyber Pakhtunkhwa Pervaiz Khattak cast his vote at polling station in his native village.

Talking to Dunya News, CM Khattak said it is responsibility of the Election Commission to oversee ongoing polling process across Khyber Pakhtunkhwa.

He said mismanagement and irregularities occurred in several areas due to several mistakes by the Election Commission.

"The power is in Election Commission's hand," he added.

The Chief Minister said there is a huge number of candidates contesting today. EC announced army would be deployed, but didn`t comply.
---
3:40 Polling process stopped after dozens of miscreants attack Bhana Mari women polling station in Peshawar. Angry men smash several ballots boxes.
---
Woman voter clashes with police at Girls Highschool University Campus polling station, tries to snatch pistol from police officer when she was forced to leave the room
---
3:33
Counting process will be conducted as per the law: ECP
---
3:27 ANP s Senator Zahida Khan reaches to cast vote in Lower Dir
---
3:05
A policeman caught casting fake vote in Govt Girls Primary School polling station's ward number 16 in Kohat.
---
2:48 Signed ballots in hands of voters outside the polling stations in Dera Ismail Khan
---
2:46 Kohat: Deputy Commissioner bars polling officer Javed Hussain from performing duties. Polling officer s "extensive involvement" was hindering the process: Deputy Commissioner
---
2:38 Lakki Marwat: ANP workers harrass staffers in a polling station
---
2:36 Kohat: A local injured earlier in firing incident outside polling station dies
---
2:33 Election Commission says polling will be held again in several areas where election symbols were missing on ballot papers. New polling dates will be announced within next few days.
---
2:28 Haripur: Army called after workers clash leaving two injured
---
2:20 Mardan: Voter smashes ballots box in Garhi Ismailzai after leveling allegations of rigging
---
2:15 ECP issues directives to KP EC to take action against violators of the law
---
2:00 Rumpus at polling station number 2 in Rashkai UC of Nowshera. Workers of various political parties smash ballot boxes. Boxes had more than 200 votes.
---
1:50 Got reports about locals stopping women voters from casting votes in Upper and Lower Dir, says ECP
---
1:43 Mardan: ANP candidate s supporters demonstrate protest, demand halt to polling
---
1:37 Kark: PTI, JUI-F workers clash in UC South Kark, polling stopped
---
1:15 Polling stopped in Shaheen Polling Station after policeman accused of casting fake votes
1:11 Called army wherever irregularities reported: KP Election Commissioner
---
1:08 Charsadda: Assistant Commissioner reaches polling station, halts polling process
---
1:04 Kohat: At least three injured in firing incident outside a polling station
---
1:01 Charsadda: ANP, JI workers manhandle policeman
---
12:49 Pesahwar: Polling halted in Nasapa polling station
---
Situation in Peshawar polling station
12:46 ECP establishes Control Room to control irregularities in KP LB polls
---
12:38 PTI contesting election from all over the province: Mushtaq Ghani, Women not being allowed to cast votes: Haji Adeel
---
Supporters manhandles opposition workers in KP LB polls
---
12:33 Bonair: At least 80 percent of women polling stations reported deserted
---
12:29 Peshawar: Locals handover three voters to police for casting fake votes in UC-12 Government Girls Primary School. Presiding officer says one of the arrested is her husband. Enraged protesters break ballots boxes.
---
12:23 Abbottabad: Army called at City Urban Polling Station number four after irregularities reported
---
12:16 DI Khan: Woman candidate helps voters stamp ballots at polling booth
12:04 Charsadda: ANP, PTI workers open aerial fire in Abazai polling station, polling process stopped
---
12:01 Mansehra: Polling stopped in Mahandri and Kaghan polling stopped. Women clash in a polling station in Abbottabad, process halted
---
11:54 Lower Dir: Women voters finally show up in three polling stations
---
11:47 Peshawar: Ballots lack candidate s election symbol in UC-9 Qadirabad, demonstration of protest ongoing
11:42 Lakki Marwat: Women barred from exercising right to vote in UC Takhti Khel
---
11:39 Charsadda: Qaumi Watan Party (QWP) workers clash with security personnel, one policeman injured. Fire opened on women polling station in Sarki halting polling process.
---
Rangers visit polling station in Lower Dir
---
11:29 Kohat: PTI candidates stamping ballots, independent candidate levels allegation
---
11:16 Peshawar: Voters get ballots outside the polling stations, polling not started in several stations in UC-15
---
11:13 Upper/Lower Dir: Women polling stations deserted, not a single voter showed up so far
---
11:11 DI Khan: Polling not started in at least two polling stations of village-1 after three hours
---
11:07 Peshawar: Ballots in UC-9 do not bear Mazdoor Kisan candidate s election symbol
---
11:01 Army personnel reach polling station in Tank following the clash there
---
10:53 Tank: Polling stopped in polling station number three in Gomal after clash
---
KP LB polls witness several incidents where women are not able to exercise their right to vote
10:50 Kark: Presiding officer runs taking away polling material after PTI voters clash with independent candidate s supporters in Ward 17
---
10:49 Mansehra: Two groups clash in Shankyari women polling station
---
10:45 Peshawar: Voters climb up the rooftops after polling stations doors closed in Touheedabad
---
10:40 Five persons arrested from ward number 2 and 5 in Kohat for running election campaign inside the polling station
---
10:17 Nowshera: Polling stopped after PTI, JUI-F voters clash in Kalan Government School
---
10:01 Only PTI women allowed to enter polling stations in DI Khan, complain PPP women voters
---
9:57 DI Khan: Women flock polling station, demand setting camp inside the station
---
9:52 Abbottabad: Workers clash in polling station number 13 in Garang
---
9:50 DI Khan: Polling lists reported incomplete, polling not started yet
---
9:41 Ballots reportedly lack election symbols of candidates in Dagar Umerzai in Banu
---
Polling started in Banu
---
9:26 Mardan: Election rules violated in Hoti 1, Hoti 3 as voters click pictures of ballots with mobile phones
---
9:20 Peshawar: Polling staff shuts doors due to voters rush, hundreds of people wait outside polling station in Union Council 15
---
9:05 ECP takes notice of keeping women from casting votes in Swabi. ROs have magistrate level one authority: ECP
---
8:57 ECP directs Swabi District Returning Officer to solve issues after people there complained
---
Polling process started in Abbottabad
---
Election campaign for the local body elections ended last night at 12 o clock.
---
Chairman PTI Imran Khan has said that he is sure elections will be held in 2015 and his party will turn out to be the winner.
---
Candidates were awarded weird symbols in the local body elections by the ECP. One of the candidates, a taylor by profession, got a car steering as his symbol.
---
Media was tortured by the teachers in a Peshawar school when they tried to show how the teachers were being trained for the election. Even a female reported of Dunya News was abused by the school administration. However, they apologized later upon government intervention.
---
All the political parties contesting the by-election in Lower Dir a few days back had agreed on barring the women from voting. However, women played a proactive role in the local body elections campaign.
---
KP government is also facing problems in providing enough police officers for conducting the election.
---
Old ways continue: Peshawar police was found hunting for the cars throughout the city so that they could be used for the election.