Pakistan, China celebrating 64 years of friendship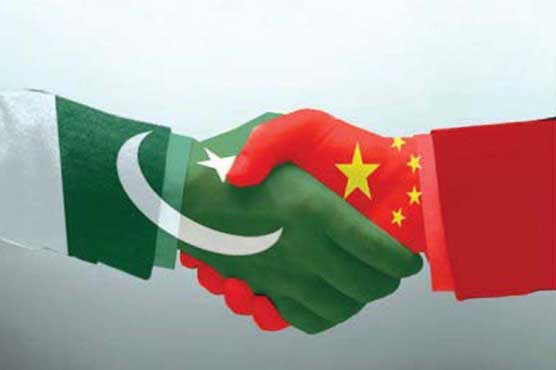 Visit of Chinese President Xi Jinping in 2015 is set to mark a new record in Pak-China friendship
(Web Desk) -- Pakistan-China friendship is regarded as one of the great examples of long-lasting alliances in world history. People have compared the strong bond between the two countries to be deeper than oceans, higher than the Himalayas and 'sweeter than honey'.
The friendship which is now 64 years old has broken boundaries and barriers beyond the conventional diplomatic relationships.
A cursory glance at the history of association between two countries will give an insight as to how the friendship progressed from its early years of infancy:
In 1949, China emerged on the world map as a country under its revolutionary leader Mao Zedong. Pakistan was the third country worldwide and the first country in the Islamic world to recognize China.
1951 saw the beginning of formal diplomatic relations between the two countries. Many years have passed since and the relationship has grown by leaps and bounds.
The first high-level diplomatic encounter between heads of two states came amidst the year 1955, when Chinese Prime Minister Zhou Enlai met Pakistani counterpart Muhammad Ali Bogra in a conference at Indonesia.
In October 1956, Pakistani Prime Minister Hussain Shaheed Suharwardi went to China on the invitation of Zhou Enlai. In December 1956, the Chinese Prime Minister reciprocated the gesture and came to Pakistan first time, in what is regarded as a milestone in Pakistan-China friendship.
In 1963, the two countries signed on the first trade agreement. In the same year, the two countries solved a territorial dispute with relative ease owing to the mutual goodwill between the two countries.
In 1964, Zhou Enlai visited Pakistan on a second tour while President Ayub Khan also visited China.
In 1972, Zulfiqar Ali Bhutto visited China in a historical tour which set unprecedented heights in Pak-China relationship.
In 1980 Zia ul Haq went to China, Benazir Bhutto visited China in 1989 and 1995 while Nawaz Sharif also toured China upon assuming the position of Prime Minister.
Chinese Prime Minister Jiang Zemin came to Pakistan in 1996 to further strengthen the ties between the two countries.
2001 saw Chinese Prime Minster Zhu Rongji visit Pakistan as well.
Former President Pervaiz Musharraf visited China 8 times during his 11 year tenure.
Asif Ali Zardari visited China 7 times while former Prime Minister Yousuf Raza Gillani visted the neigbouring country 4 times during Pakistan People s Party tenure in the government.
During PPP's stint at the top, the visits of President Hu Jintao and Prime Minister Wen Jiabao are accorded significant historical importance.
And now in 2015, the visit of Chinese President Xi Jinping is being considered as a stepping stone to bringing the Pak-China relationship to an all-time high.