Patiala House report prepared in name of Model Town tragedy, alleges Qadri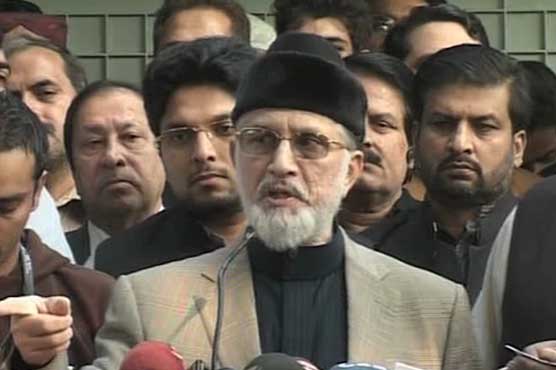 Sartaj Aziz's statement was an attempt to sabotage operation Zarb-e-Azb, says PAT chief.
LAHORE (Dunya News) – Pakistan Awami Tehreek (PAT) Chief Allama Tahirul Qadri on Saturday said Patiala House report has been prepared in the name of Judicial Investigation Team (JIT) report, which only awaits a sign off now.
Talking to the media at his residence before leaving for Bhakkar, PAT chief said Judicial Commission report held Punjab government responsible for orchestrating Model town incident but a stay order was taken to keep the report from being disclosed.
He accused that the report compiled was nothing but a charade adding that they would not be a part of any inquiry until Chief Minister Shahbaz Sharif tenders his resignation.
None of the officers of Punjab government should be a part of JIT, he demanded.
"Government has collusion with the militants and has fractionated them; those who work for the government remain untouched." alleges Qadri.
He said Advisor to Prime Minister on Foreign Affairs Sartaj Aziz's statement was an attempt to sabotage operation Zarb-e-Azb.
PAT members were assassinated in Balochistan, he added.
Tahirul Qadri vowed not to step down from his proposition.
He informed that gas prices have been hiked up to 30% which would be charged with next month's bill. The consumers would therefore have to bear the burden of Rs 70 billion.
Condition of children in Punjab is no way different from Tharparkar, he added.
Referring to Pakistan Tehreek-e-Insaf (PTI) rally due on November 30 he said they would ponder to join in if they receive an invite.
Earlier, addressing the press conference on Thursday at his residence, Tahirul Qadri dismissed the Judicial Investigation Team (JIT) formulated by Punjab government pronouncing it as unjust and a betrayal to martyr's blood.
We shall not agree to any JIT that comprises of Punjab police officers whereas Chief Minister Punjab Shahbaz Sharif must also step down before JIT is devised, he added.
He stated none of PAT members would be a part of JIT.
Qadri said CM Shahbaz himself constituted a tribunal comprising of Lahore High Court (LHC) judges and later when the tribunal presented the report, Shahbaz Sharif took stay order from LHC and the report has not been brought to light till date because Punjab government and CM Punjab was held responsible.
Some people are send abroad as the government fears they would testify against them as approvers, he revealed.
He further revealed that CM Punjab and Prime Minister Nawaz Sharif pressed upon to appoint Tauqeer Shah as ambassador to Geneva.
Referring to his arrest warrant he said he would not present himself before the court; those who have issued the warrants must come and arrest him. He vowed to surrender the day PM and CM Punjab get apprehended.
He further affirmed not to step down from the case of Model Town tragedy adding that the ones alleging him of any deal must now feel abased.
Tahirul Qadri announced to hold a rally in Bhakkar on November 23 and sit-in the very next day whereas PAT would conduct a massive rally in Karachi on December 25.
Earlier today, Tahirul Qadri on Thursday paid a visit to Data Darbar, the shrine of sufi saint Abul Hassan Ali Hajvery, hours after his flight landed in Lahore from London.
The PAT chief's convoy took nearly five hours to reach Data Darbar from the airport where he was warmly welcomed by hundreds of his followers.
The PAT workers have pouring in from all across the city to welcome their leader, holding his portraits, party flags and banners, on the road from airport to the shrine in the heart of Lahore city.
Throughout the travel, Dr. Qadri's motorcade was showered with rose petals by his supporters, a good number of women among them.