Published On 22 Sep 2014 05:03 PM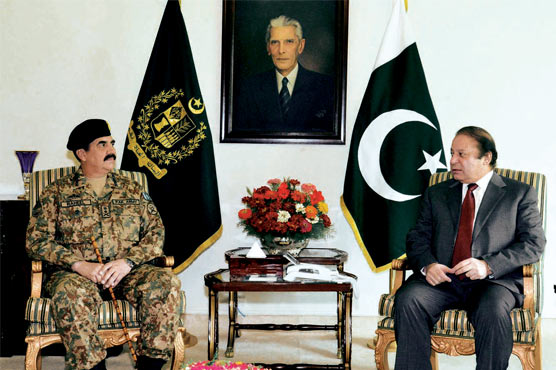 Army Chief met Prime Minister Nawaz Sharif at PM House in Islamabad.
ISLAMABAD (Web Desk / Agencies) – Army Chief General Raheel Sharif today (Monday) called on Prime Minister Nawaz Sharif and exchanged views on operation Zarb-e-Azb in North Waziristan tribal region, Dunya News reported.
Both also discussed strategy regarding rehabilitation of internally displaced persons (IDPs).
According to sources, the Prime Minister expressed satisfaction over operation's progress. He also discussed his upcoming visit to the United Sates.
OPERATION ZARB-E-AZB
Over 1,000 militants have been killed since launch of the military operation on June 15. Nearly one million people have been displaced due to the operation who now live in camps, rented houses or with communities in nearby districts.
The army says the security forces have cleared some 90 per cent of areas of the militants in major towns in the region, including its headquarters Miranshah and Mir Ali, a stronghold of the militants.
The Tehreek-e-Taliban Pakistan (TTP) and dozens of other groups had established hideouts in North Waziristan, bordering Afghanistan.