Ex-DG Rangers Sindh Rizwan Akhtar appointed new DG ISI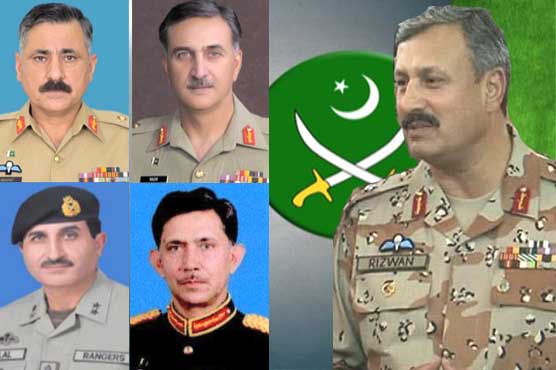 Six Major Generals including DG Rangers Sindh have been promoted to Lt. Generals.
RAWALPINDI (Dunya News) – According to the Inter-service Public Relations (ISPR) six major generals of Pakistan Army have been promoted to lieutenant general's status whereas former Director General (DG) Rangers Sindh has been appointed as DG Inter-Services Intelligence (ISI) today.
The officers promoted to the rank of lieutenant general include Major General Rizwan Akhtar, Major General Halal Hussain, Major General Ghayyur Mahmood, Major General Nazir Butt, Major General Navid Mukhtar and Major General Hidayatur Rehman.
Promotion to rank of Lieutenant Gens:Maj Gens Rizwan Akhtar,Hilal Hussain,Ghayur Mahmood,Nazir Butt,Navid Mukhtar,Hidayat Ur Rehman.Total-6

— AsimBajwaISPR (@AsimBajwaISPR) September 22, 2014
According to the ISPR Lt. General Rizwan Akhtar has been appointed as ISI's new director general whereas Lt. General Hilal Hussain has been appointed Corps Commander Mangla, Lt. General Ghayyur Mahmood Corps Commander Gujranwala, Lt. General Hidayatur Rehman Corps Commander Peshawar, Lt. General Navid Mukhtar Corps Commander Karachi and Lt. General Nazir Butt Inspector General Communication and Information Technology.
Postings:MG Rizwan to DGISI,Hidayat to Psr Corps,Navid Mukhtar to Kci Corps,Hilal Hussain-Mangla,Ghayur Mahmood-Gujranwala,Nazir Butt-C&IT

— AsimBajwaISPR (@AsimBajwaISPR) September 22, 2014
In the coming few months, many of the lieutenant generals of Pakistan army would be retiring including the current DG ISI Zaheerul Islam.