Last Updated On 16 September,2014 About 7 years ago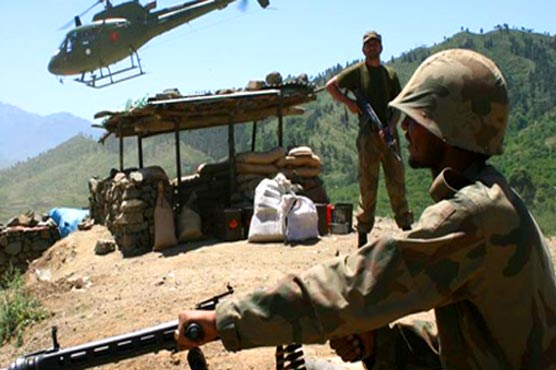 Pak Army says it has killed more than a thousand militants during operation Zarb-e-Azb.
ISLAMABAD (Web Desk / AFP) – At least 31 militants have been killed in air strikes and ground clashes in North Waziristan tribal region along restive border with Afghanistan today (Tuesday).
At least twenty suspected terrorists were killed in military airstrikes in Tirah Valley of Khyber Agency. PAF jets pounded five militant hideouts in Dotoya, Tordara and Rajgaal areas.
Militants launched a separate cross-border attack at a military post in the North Waziristan tribal district, officials said.
A statement said troops repulsed the early morning attack at the Dandi Kuch post in the Spinwam area of the district.
"11 terrorists were killed and one apprehended. The dead bodies of three terrorists are with security forces," it said, adding three paramilitary troops were also killed.
Pakistan and Afghanistan share a volatile and porous border that is often the scene of cross-border attacks. Militants from both countries also cross to use the neighboring country s soil as a safe haven.
Pak Army says it has killed more than a thousand militants and lost 86 soldiers since the start of the operation, though the numbers cannot be independently verified as journalists do not have regular access to the combat zone.
Since June 15, airstrikes, artillery, mortars and ground troops have all been used to retake territory in North Waziristan tribal region, which had become a haven for fighters with the Tehreek-e-Taliban Pakistan (TTP) and other militant outfits.
The military has said the major towns of Miranshah and Mir Ali had now been cleared of insurgents, along with a 90-kilometre (55-mile) road through North Waziristan.