Air Force Day being observed with traditional zeal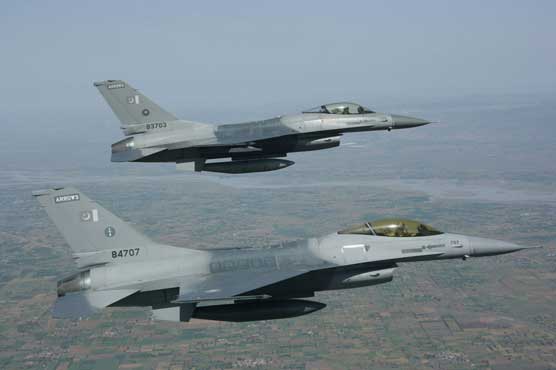 Floral wreaths were laid at Pilot Officer Rashid Minhas's grave.
KARACHI (Dunya News) — The entire nation is celebrating the Air Force Day on Sunday with traditional zeal by paying tributes to the brave Pakistan Air Force officers who laid down their lives in defense of the territorial sovereignty of Pakistan, Dunya News reported.
Base Commander Air Commodore Ilyas Sultan laid floral wreath and offered prayer at the grave of Pilot Officer Rashid Minhas. Accompanying him were Squadron commander, Wing commander Shahid Wahid and Pilot Officer Rashid Minhas's brother Anjum Inlyas. Rashid Minhas is the youngest recipient of the highest valour award, the Nishan-e-Haider.
In his memory the Pakistan Air Force baseat Kamra was renamed PAF Base Minhas, also known as Minhas-Kamra. He was also honored in Karachi by naming of a main road after his name, Rashid Minhas Road.
A special prayer was held for eternal peace of the martyrs while tribute messages were read out to the brave troops of the Air Force. The national flag was hoisted and all ranks in the Pakistan Air Force troops also performed the salutation ritual. Wreath laying ceremonies were held at the graves of those air force officers who were awarded Pakistan s top military honour, the Nishan-E-Haider and also at the graves of others who embraced martyrdom. The ceremony was attended by people from all walks of life to pay homeage to the brave sons of our soil who manifested courage in defense of their motherland.
It is worth mentioning here that the Air Force Day is celebrated in Pakistan as a national day on September 7, one day after the annual celebration of the Defence Day. Air Force Day marks the role of Pakistan Air Force in defending the nation in the Indo-Pak War of 1965.