Retaliation threat: Security put on high alert in Islamabad, KPK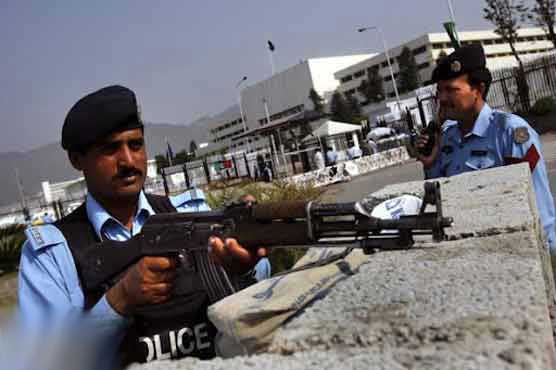 State of emergency has been declared in hospitals and law enforcement agencies remain alert.
ISLAMABAD (Dunya News) – Security has been put on high alert in the federal capital due to possible threats of retaliation by the militants after Operation Zarb-e-Azb launched against terrorists in North Waziristan, Dunya News reported.
According to Interior Ministry and police sources, the district administration has directed all rescue and emergency services to remain high alert.
A state of emergency has been declared at all hospitals and ambulance service has been order to remain on high alert to meet any untoward situation.
The special arrangements are underway to counter any retaliation to the operation in North Waziristan. The doctors and paramedical staff have been directed to ensure complete presence and remain alert.
The sources added that a joint survey has been started thorough the city by the law enforcement agencies including police, special branch, CID and intelligence agencies.
After the survey report, a grand operation would be launched in different areas of Islamabad while security forces have declared some points at Barakahu and Tarnol as most sensitive. Officials of Islamabad police intelligence have also been deployed at different places.
The Interior Ministry has directed police and intelligence agencies to share information on daily basis. Police have appealed to the citizens to carry their identity cards with them while entry of applied for registration vehicles has been banned in the city.
Meanwhile, the Khyber-Pakhtunkhawa government has declared a state of emergency in all districts of the province including Peshawar.
Doctors' vacations have been cancelled and they have been directed to ensure their presence whereas the health department has been directed to ensure immediate supply of medicines to all hospitals while security has also been beefed up at all jails in the province.
Security is on red alert in Peshawar while tight security measures have been adopted on the entry and exit points of the city.
Earlier on Sunday, Federal Interior Ministry directed all four provinces to tighten security to avoid the possible fallout of the operation Zarb-e-Azb launched in North Waziristan.
According to sources, the ministry issued the directive to all four provinces to tighten security of sensitive places including important buildings, airports, railway stations, bus stands, hotels, banks and multi-national companies among other trading centers.
Sources also said that the tightening of security of high level civil and police officers, politicians, ministers and members of legislative assemblies among other prominent personalities has also been directed.
The ministry directed the provinces to enhance the monitoring of entry and exit points of the cities.
Reportedly, the security has been tightened on prominent points, and police patrolling has been increased following the interior ministry's directive.
Meanwhile, Inspector General (IG) Sindh Iqbal Mohammed issued red alert to province-wide police and canceled the vacations. Talking to Dunya News, IG Sindh said that the preparations of a grand operation in marked area of Karachi have been completed. He said that the red alerts have been issued and security of important points has been tightened.