Two military officials among five martyred in Rawalpindi suicide attack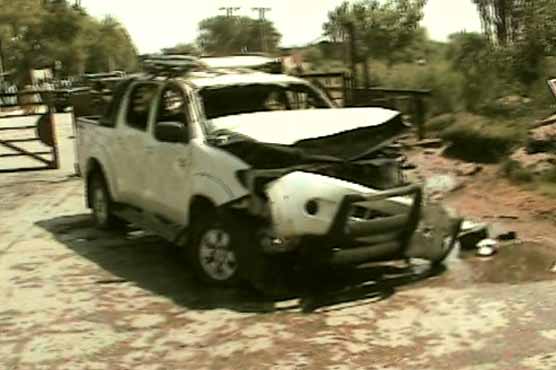 Two lieutenant colonels were on their way to a military installation near Fateh Jang.
RAWALPINDI (Web Desk) – Two military officers and three civilians embraced martyrdom when a suicide bomber hit their twin cabin vehicle in Rawalpindi on Wednesday, Dunya News reported.
According to military spokesperson, the two officers were identified as Lt. Colonel Zahir Shah and Lt. Colonel Arshad.
The incident took place near railway crossing on Fateh Jang Road.
According to witnesses, the suicide bomber disguised himself as a beggar hit the military vehicle when it passed through the railway crossing.
Rawalpindi's Regional Police Officer (RPO) Akhtar Lalika has also confirmed the attack. He said a rickshaw driver was also killed in the incident.
The area had been cordoned off by security forces personnel and evidence was being collected from the location.
President Mamnoon Hussain and Prime Minister Nawaz Sharif have strongly condemned the attack on security forces and termed it as cowardly act.

According to AFP, nore than 4,000 Pakistani police, paramilitaries or troops have lost their lives in terrorist attacks since 2002, but the death of high-ranking officers is rare.
Pakistan opened talks with the Tehreek-e-Taliban Pakistan, the largest militant group, earlier this year but the dialogue has stalled.
The air force carried out attacks in the North Waziristan tribal district late last month that killed at least 75 people, as speculation mounted of an impending military ground operation in the area.