Interior Minister briefs Senate, opposition stages walkout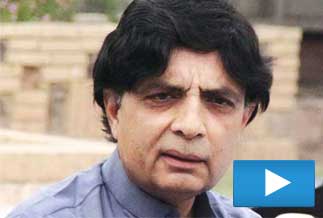 2160 militants and 67 civilians have so far been killed in US drone attacks, Chaudhry Nisar said.
(Web Desk) - The Senate was informed today (Wednesday) that six thousand-one hundred and forty nine terrorists have been arrested by law enforcement agencies since 2002.
Interior Minister Chaudhry Nisar Ali Khan informed the House during question hour that 12'404 people have been killed in the incidents of terrorism.
He said that 413 incidents of terrorism including suicide attacks have taken place in the country since June this year.
The Interior Minister said that 2160 militants and 67 civilians have so far been killed in drone attacks.
He said capital punishment was awarded to 13' 223 people since 2002 but 501 of them were hanged.
The Interior Minister said the federal government is providing all possible assistance to the provincial governments to curb the incidents of terrorism.
Chaudhry Nisar Ali Khan said that necessary amendments have been made in the anti-terrorisms act and investigation for fair trial act' 2013 has been promulgated to bring the terrorists to justice.
On the issue of missing persons' Ch. Nisar Ali Khan said a Task Force on missing persons has been constituted with the task to monitor the progress in the cases of missing persons and coordinate efforts of all stakeholders working on the issue.
To a supplementary question' the Interior Minister said there is no proposal under consideration of the government to convert the death sentences into life imprisonment.
The Opposition members staged a walkout from the House on the submission of unsatisfactory reply by the Interior Ministry regarding the number of people killed in terrorist acts in Khyber-Pakhtunkhwa province.
On the occasion' the opposition members also exchanged harsh words with the Interior Minister' ignoring the orders of the chair to calm down.
Taking the floor Leader of the House Raja Zafarul Haq said it is the right of the opposition members to protest and criticize the government. But the attitude of the opposition members today towards the chair as well as the Minister was totally inappropriate.
Regretting the posture of the opposition' Minister for Information and Broadcasting Pervaiz Rashid said it is the prerogative of the opposition to criticize the government and point out its mistakes. However' it is also their responsibility to demonstrate patience instead of resorting to inappropriate attitude. He recalled that the PML-N played the role of responsible opposition in the previous government while adopting strict stance on issues' but we never acted in bad manners.
The proceedings of the House were suspended for 15 minutes due to the walkout of the opposition members.