SC orders to hold presidential election by July 30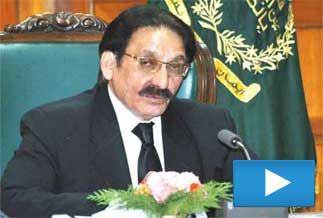 Supreme Court heard Raja Zafarul Haq's petition against presidential election schedule.

ISLAMABAD (Dunya News) - The Supreme Court on Wednesday ordered the Election Commission of Pakistan (ECP) to conduct presidential elections by July 30.
A three member bench headed by Chief Justice Iftikhar Muhammad Chaudhry heard a petition filed by PML-N chairman Raja Zafarul Haq seeking a change in the date of the presidential election.
During case hearing today, Attorney General Munir A. Malik told the bench that there is no constitutional impediment to change the date of holding of presidential election.
He said presidential election process does not fall under Public Representative Act.
The court observed that the Election Commission must review nomination papers by tomorrow and July 27 should be fixed for withdrawal of nomination papers.
On this, the Election Commission responded that Supreme Court s order will be implemented.
The petition was moved by Raja Zafarul Haq in light of the decision of the Election Commission of Pakistan (ECP) for not deferring the earlier date fixed for 6th of August.
The government had requested the commission to re-schedule the election date as a number of parliamentarians who have to cast their votes would be in Saudi Arabia for Umrah or performing Eitkaaf.
However, the ECP had announced that it was not constitutionally possible to change the date.