PML-N formally nominates Mamnoon Hussain as presidential candidate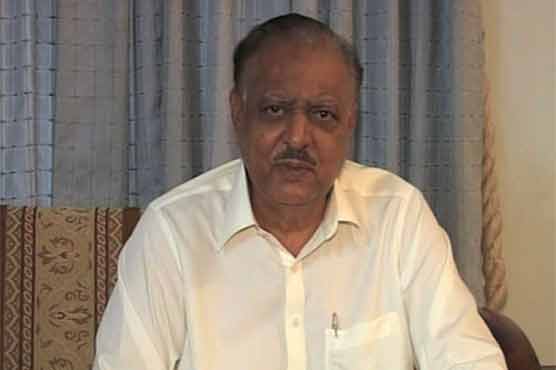 A meeting of the central leadership of PML-N in Islamabad today.
ISLAMABAD (Dunya News) - The ruling Pakistan Muslim League-Nawaz (PML-N) has officially nominated former Governor Sindh Mamnoon Hussain as its candidate for the presidential elections.
The name of Mamnoon Hussain was approved at a meeting of the central leadership of PML-N in Islamabad today (Wednesday).
Later' presidential candidate Mamnoon Hussain also held a one on one meeting with the prime minister and discussed the party s strategy for the presidential election. Both the leaders also discussed overall political situation of the country.
Talking to Dunya News, Mr Hussain criticised incumbent president for ongoing crisis in the country.
He said that masses are surrounded by different problems and overall situation was out of control during President Asif Ali Zardari's tenure.
People have given their opinion through power of vote in the general elections, he added.
On the other hand, Pakistan Peoples Party (PPP) has fielded Raza Rabbani in the presidential race.
The Election Commission of Pakistan has stipulated July 24 as the last date to submit presidential nomination papers.
ECP had announced to hold Presidential election on August 6 to replace incumbent Asif Ali Zardari, who is not seeking a second term.