Exclusive: Airblue captain ignored 13 warnings: report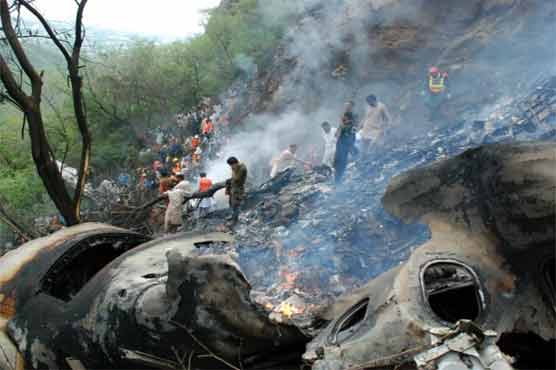 Report highlights that automated systems indicated thirteen warnings before crash.

AirBlue flight ED-202 crashed in the Margalla Hills on July 28, 2010, killing all 146 passengers and 6 crew members on board.The aircraft, an Airblue operated Airbus A321-231 narrow-body jet airliner, crashed at the Margalla Hills north of Islamabad during a flight from Karachis Jinnah International Airport to Benazir Bhutto International Airport.Dunya News obtained a transcript of communication between Pervez Iqbal Chaudhry and the first officer Muntajib Ahmad, who was a former Pakistan Air Force pilot.The flight left Karachi at 07:50 local time. Pilot Pervez Iqbal and first officer were served tea.During flight, captain gave some instructions to the first officer; however, his behaviour was offensive and inappropriate.The first officer was silent; he did not challenge the captains mistakes.8:33 – aircraft reached at altitude of 4,300 ft and was guided by radar controller to stay at 3,900 ft.8:35 – while flying at 3,700 ft, captain put the landing gear down.8:36 – Captain Pervez contacted Air Traffic Controller and confirmed weather condition.8:38 – first officer asked "Can you see the runway", pilot responded "I can see"8:39 – the pilot was told "immediately turn left, Margalla [Hills] are ahead", pilot again replied "we can see it"First officer told pilot "hills are ahead", pilot responded "taking left now"On the occasion, automated warning systems indicated "terrain ahead" two times.8:41:06 – first officer declared "Sir, we are going down, sir, we are going down"Suddenly control tower lost contact with the aircraft.According to report, automated systems indicated five warnings when it moved closer toward hills and total 13 "terrain ahead, pull up" warnings were indicated. The report has also highlighted the importance safety management system in the air traffic control and suggested training of air crew in accordance with international standards. Earlier, the report issued by Pakistans Civil Aviation Authority in November 2011 cited a lack of professionalism in the cockpit crew along with poor weather as primary factors in the crash. In particular, the report noted that the captain ignored or did not properly respond to a multitude of Air Traffic Control directives and automated cabin warning systems. The report also claimed that the first officer passively accepted the captains actions, after the captain on multiple occasions took a harsh, snobbish and contrary tone with the first officer and berated him.