Study finds diversity stunted in theatrical film roles but better in streaming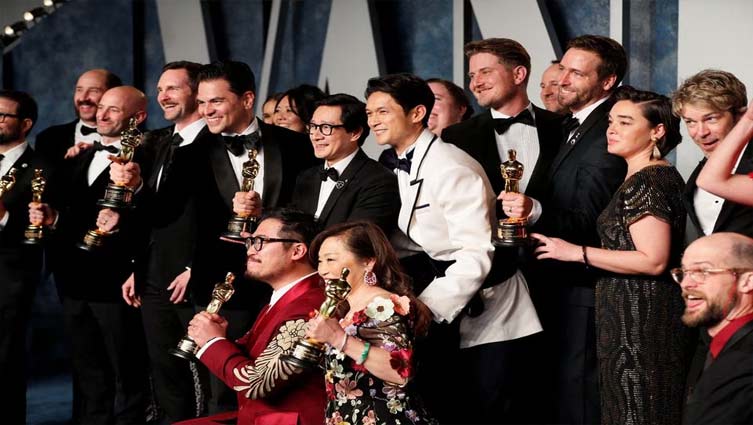 Entertainment
Progress remains most accessible to able-bodied people in Hollywood.
LOS ANGELES (Reuters) - Despite the Oscars triumph of Asian-led film "Everything Everywhere All at Once," the diversity of leading roles in 2022's theatrical films slid to pre-pandemic levels, UCLA researchers found in a study released on Thursday.
The annual UCLA Hollywood Diversity Report looked at 88 films released in cinemas last year and found that 21.6% of lead roles were filled by minorities.
That was down from 27.6% in 2019 before the COVID-19 pandemic shuttered theaters and upended the movie business.
"In an era of economic uncertainty intensified by the pandemic, studios pushed for theatrical 'surefire hits' that relied on nostalgia and previous intellectual property," said the report by the University of California, Los Angeles.
"Instead of forging ahead with more inclusivity and new narratives, studios seemed to limit their theatrical offerings in 2022, which also limited the opportunities for certain
filmmakers," they added.
Hit films with diverse casts last year included "Black Panther: Wakanda Forever" and "Everything Everywhere," which won the Academy Award for best picture.
Streaming was a slightly more level playing ground for people of color. More than 33% of lead actors in 99 streaming films were minorities, the researchers said.
Minorities were defined as people who were Black, Latino, Asian, multi-ethnicity, Native American or Middle Eastern that account for 43.1% of the United States in 2022.
Additionally, the interest in streaming films about women of color increased. The UCLA study noted that the two films streamed the most in 2022 were "Turning Red" and "Encanto," which are both animated films about girls of color.
However, white men still hold the greatest authority over large industry projects and make up 73% of film directors for theatrical releases.
Progress remains most accessible to able-bodied people in Hollywood, the study found.
While around a quarter of adults in the United States have a disability, actors with disabilities consisted of roughly 9% of lead roles in theatrical films and 6% in streaming films, the researchers said.