Anoushey Ashraf calls Shah Rukh Khan 'universal star'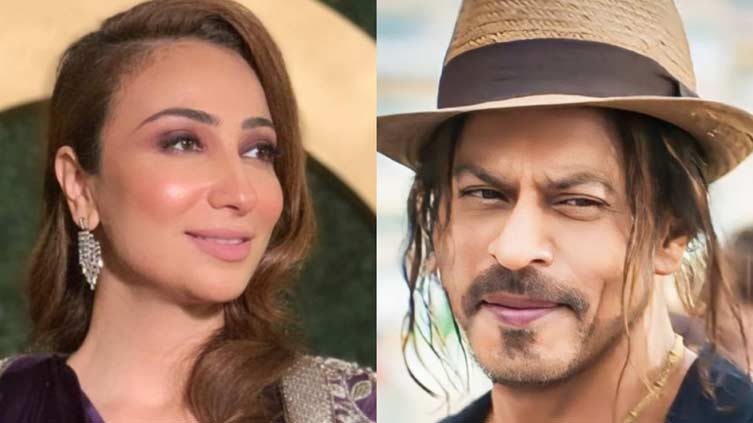 Entertainment
Anoushey Ashraf calls Shah Rukh Khan 'universal star'
LAHORE (Web Desk) – Shah Rukh Khan has a crazy fan following all over the world and in Pakistan, he has a super fan in Pakistan VJ and host Anoushey Ashraf as she called Bollywood actor a "universal superstar".
"As much as people dislike him, as much as Pakistan's feel we shouldn't promote Bollywood. For me, SRK is a universal superstar. As artists we believe we connect to people beyond borders (which is an awful man made concept), the world only knows us as humans and this human has done remarkable stuff," shared the VJ.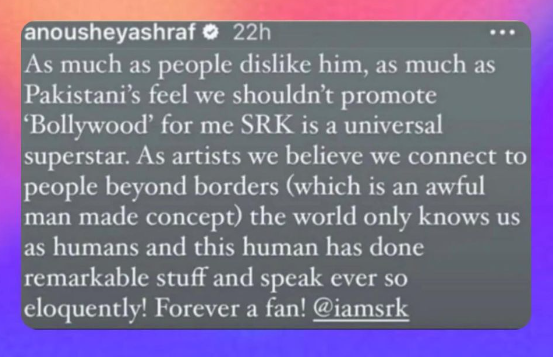 Earlier, Amar Khan took to her Twitter handle to share her excitement about Bollywood superstar Shah Rukh's comeback film "Pathaan's" release.
Amar tweeted, "Reviving back so many single screens. Now that's the hysteria of a King! Ufff last saw his 'zero' in Pakistan, then films got banned on both sides. Watching Shahrukh khan on screen is not viewing a film it's witnessing an event. This man withstood all TVs, VCRs, digital and whatnot."
After "Pathaan's" release, veteran Pakistan actor Atiqa Odho expressed her love for "Don 2" actor and praised him for keeping in touch with his Peshawar roots.
Atiqa Odho shared a throwback picture of her encounter with Shah Rukh at the sets of his film "Devdas" in 2002 and also penned a heartfelt note for "a celebrated film star who's humble, polite and caring".
She wrote, "A celebrated film star whose humble, polite, caring and above all has roots and family in Peshawar with whom he stays in touch. Such a sweet and friendly person. Happy that his film Pathaan has done so well".
Atiqa then expressed her disappointment with the political tension that has made it difficult for artists to work across borders.
"Wish politics wouldn't restrict artists from working together as collaborative work would engage a larger global audience for both sides for sure", the actress concluded.
Shah Rukh's comeback film "Pathaan" which has released on the Jan 25, broke records at the box office as the film became the highest-grossing film on its release day.