Rakhi Sawant turns Fatima ahead of nuptials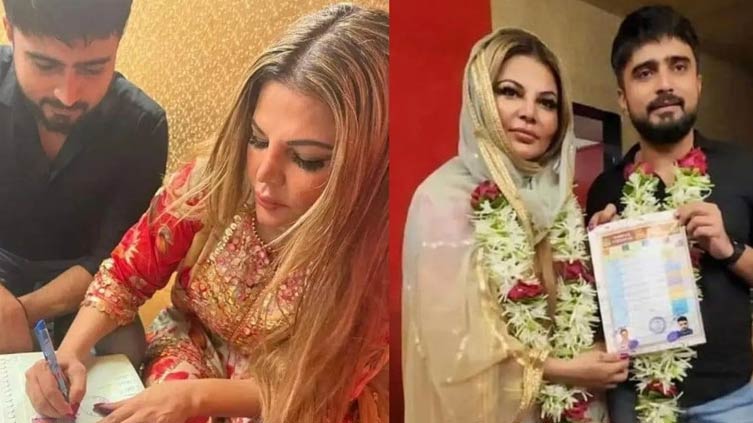 Entertainment
Rakhi Sawant turns Fatima ahead of nuptials
MUMBAI (Web Desk) – Pictures of actor and model Rakhi Sawant and Adil Khan Durrani surfaced on social media this week, showing the couple in what appeared to be a marriage ceremony. Rakhi was dressed in a white and pink sharara, while Adil Khan was wearing a casual shirt and jeans. One of the photos showed the couple signing a document, which is believed to be their marriage registration.
On Wednesday, Sawant took to social media to confirm the news to her followers. "Finally, I'm happy and so excited that I got married! My love is forever now. All my unconditional love for you, Adil!" penned the "Main Hoon Na" actor in an Instagram post.
In a recent interview with ETimes, Sawant also revealed that she officially tied the knot with Adil in July last year. "Yes, I got married to Adil in July last year after three months of knowing him. We had a nikah ceremony and a court marriage. Since he stopped me from disclosing it, I remained tightlipped for the past seven months. He felt that it would get difficult to find a suitor for his sister if people got to know about our marriage," expressed the "Masti" star.
She then went on to detail how she met Adil while going through a rough patch in her life. She said, "I was almost in depression because of the betrayal of my loved ones. However, much to my surprise, that s when Adil came into my life and made promises to love me forever. He also offered to marry me and we immediately got hitched. I didn t want to wait, as I have a strong desire to become a mother. Unfortunately, his family has still not accepted me."
Speaking about her newly married life, Sawant disclosed that her relationship is on a rocky road right now. "A lot happened while I was away locked up inside the Big Boss Marathi 4 house recently. I will elaborate on my experiences when the time is right. At this point, all I want is to save my relationship and I want the world to know that I am married to Adil. These days, I m quite frustrated due to a couple of things, so it was necessary to make my marriage public."
Prior to this, Sawant was allegedly married to Ritesh Singh, an NRI businessman with whom she entered the Bigg Boss 15 house as wild cards. However, they both soon parted ways after she learned that her marriage wasn t legal in India as Singh hadn t divorced his first wife.