Last Updated On 22 July,2017 08:35 am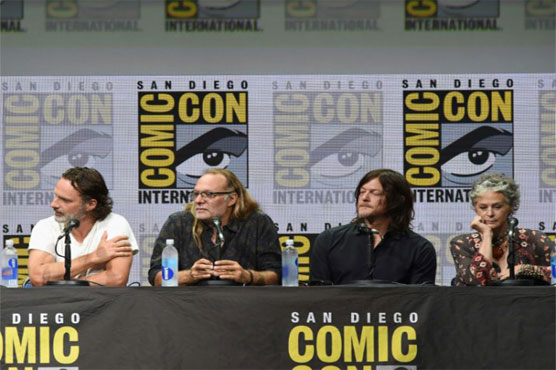 'The Walking Dead' previewed its upcoming eighth season at Comic Con Friday
SAN DIEGO (AFP) - Hit zombie series "The Walking Dead" thrilled fans Friday with a preview of the all-out war to come between Rick s people and the malevolent Saviors in the hotly-anticipated eighth season.
US network AMC debuted a five-minute trailer at San Diego Comic-Con showing Saviors leader Negan (Jeffrey Dean Morgan) in full swagger before cutting to all the major characters readying their weapons and troops to take him down once and for all.
There was the usual feast of explosions, guns, hand-to-hand combat and zombies with axes in their heads -- and a thrilling cameo by King Ezekiel s CGI tiger.
Intriguingly, the teaser ended with an older, grayer version of Rick waking up in a hospital bed with a walking stick by his side, implying a huge leap forward in the narrative -- or perhaps just a dramatic dream sequence.
There were rousing speeches from Rick (Andrew Lincoln), Maggie (Lauren Cohan), and Ezekiel (Khary Payton), perhaps presaging a brighter future for the embattled apocalypse survivors.
"With everything we ve beat, everything we ve endured, everything we ve risen above, everything we ve become -- no matter what comes next -- we ve won. We ve already won," says Rick.
Series co-creator Robert Kirkman, the man behind the comics on which the show is based, said he d counted six explosions in the trailer alone.
"We have all kinds of great stuff planned. Our next season will be very action-packed and very fast-paced," he told a packed 6,500-capacity Hall H at the San Diego Convention Center.
Kirkman and his fellow executive producers were joined on stage by numerous cast members, including Melissa McBride, Lennie James, Chandler Riggs, Danai Gurira, Lincoln, Morgan, Cohan and Payton.
The hall was treated to a compilation of moments from across the 99 episodes that have aired since 2010, provoking an emotional response from the panelists.
"This has been the most incredible thing in my life. It s been the most incredible experience," said Lincoln, eyes welling up.
Morgan was asked what he likes most and least about swaggering, psychopathic Negan, who dispatches his enemies with a baseball bat called "Lucille" covered in barbed wire.
"What do I like most about him? I find him very amusing. I think he s got a great sense of humor. In these dark days a sense of humor will get you through," the 51-year-old actor responded.
"What do I like least about him? That he wears a leather jacket out in 120 degrees (49 celsius)."
Before the panel got going, showrunner Scott M. Gimple paid tribute to stuntman John Bernecker, who died after falling more than 20 feet (seven meters) on the set in Georgia earlier this month.
Earlier, Hall H had observed a moment s silence for Bernecker during a Q&A for AMC s spin-off series, "Fear the Walking Dead."
"Fear" is due to return from its mid-season break on September 10, finishing its third season on October 15, a week before the return of the main show.
Co-created by Kirkman, the spin-off show takes place in California and Mexico from the very start of the zombie apocalypse whereas the main show started out at an unspecified later date, in Georgia.
Kirkman hinted at a possible crossover between the two shows while admitting the time gap between them would be a problem.
"It s really a question of timeline because Walking Dead season eight is so far ahead in the timeline compared to Fear the Walking Dead season three," he said.
Fans have been speculating online since the spin-off show started that Daryl Dixon, a lead character in the main show played by Norman Reedus, is related to Madison Clark (Kim Dickens) from "Fear."
Kirkman joked that the pair might be able to communicate via a "magical telephone."
Fans were treated to a trailer previewing the next eight episodes, which will be "bolder, bloodier and more zombie" than ever before, according to showrunner Dave Erickson.
Greg Nicotero, an executive producer on both series and a renowned special effects guru, described their "tremendous debt of gratitude" to zombie legend George Romero, who died on July 16 at age 77.