Last Updated On 18 July,2017 07:28 pm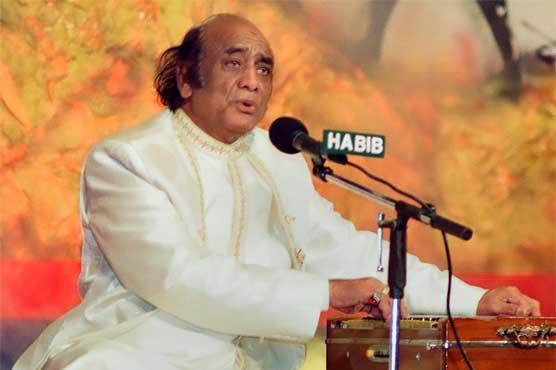 Mehdi Hasan has been one of the greatest signers to have been produced by Indo-Pak subcontinent
(Web Desk) – Born in 1927 on this very day in Luna, Rajasthan, Mehdi Hassan was perhaps the greatest Ghazal singer to have been born in the Indo-Pak subcontinent. He died five years ago in Karachi at the age of 84 but he was undoubtedly one of the finest playback singers in Pakistan and was respected for his exceptional talent not only in Pakistan but across the globe.
Few months ahead of his death, legendary actor Moeen Akhtar narrated to a ceremony in Karachi how the Prime Minister of Fiji had personally come to receive Mehdi Hassan at the airport back in 1979. Such was the respect that this extraordinary singer commanded worldwide.
One of the greatest Indian singers of all times, Lata Mangeshkar, in 1977 said about Mehdi Hassan, 'it seems that God sings through his voice'.
No matter how much is written about him, words just cannot do justice to the singing prowess of this maestro. So let's just give him a tribute here through the 10 best film songs that he sang.
Alright, there can never be consensus on the 10 best songs of a singer who had sung 56,000 songs in his life. This is just my playlist. You may have your own. The rationale behind choosing these songs is that these are some of the most difficult songs to sing for any singer. The way he raises his voice to a stupefying pitch in 'Ik Husn Ki Devi' is probably insurmountable for even the best in the business. Similarly, 'O Laagi Re Laagi Lagan Yeh' is another song that'd make the finest shudder but Mehdi Hassan made it sound extremely simple.
So without further ado, let's get into this list and pay a small tribute to this singing genius.
---
10. Tere Bheege Badan Ki Khushboo Se
---
9. Rafta Rafta
---
8. Khamosh Hain Nazaare
---
7. O Laagi Re
---
6. Dil-e-Veeraan Hai
---
5. Zindagi Ki Raah Mein
---
4. Ranjish Hi Sahi
---
3. Pyar Bhare Do Sharmeele Nain
---
2. Ek Baar Chale Aao
---
1. Ik Husn Ki Devi
---
BONUS! This is my personal favourite, like, THE favourite. From Amber (1978), starring Nadeem, Mumtaz, Deeba and Lehri alongside the great Muhammad Ali.
The ultimate: Thehra Hai Samaa
---
The list has been made by Ali Warsi.